Posts Tagged 'Jacke McLean'
Nov 29, 2013 Features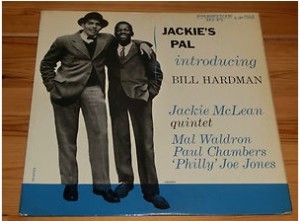 I had thought I was finished buying collections. I had gotten so much joy out of buying the Irving Kalus collection last year, I thought nothing else would compare. It was such a nice collection I didn't think I'd ever be able to top it, so why try? I'd hardly bought a record at all in more than 18 months. I had passed on every inquiry coming in to Jazz Collector. I was happy and content with the collection I had amassed during the past 40-plus years of being a jazz collector. I am not a dealer, I am a collector, proudly so, and I have no aspirations to be a dealer. My site is Jazz Collector, not Jazz Seller.  It's been about three years since I even sold a record on eBay. So what would I do with even more records?
Yet here I was with this list of records sitting in front of me. And it was an odd list.
Tags: Art Pepper, Elmo Hope, Hank Mobley, Jacke McLean, Jutta Hipp, Lou Donaldson, Miles Davis, Tommy Flanagan
Mar 20, 2012 Blue Note, Prestige
Let us finally catch up on some of the rare jazz vinyl we've been watching on eBay:
The Fabulous Fats Navarro, Volume 2, Blue Note 1532. This is an original Lexington Avenue pressing with the Lexington Avenue cover. The record was listed in M- condition and the cover was VG+. The price was $390. From the same seller, in the same vein: The Fabulous Fats Navarro, Volume 1, Blue Note 1531. This too was an original pressing with the original cover. It was in M- condition for the vinyl and VG++ for the cover. It also sold for $390. I was watching these records because I recently acquired copies of each of these that are duplicates for me. They are both in VG++ condition for the vinyl and the cover, and they both have the Lexington Avenue addresses on the label, deep grooves, etc. They have the West 61st Street addresses on the cover, so they are a drop less than original originals. I will probably wind up selling these on eBay, unless someone here wants to make me an offer I can't refuse.
This one received a bid of nearly $2,000, but failed to meet the seller's reserve price:
Tags: Ad Lib Records, Atlantic Records, Fats Navarro, Giant Steps, Jacke McLean, Jazz Vinyl, John Coltrane, WEbster Young