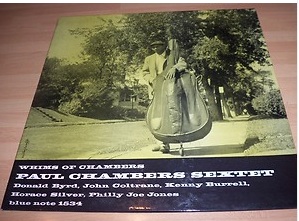 Here's some of the jazz vinyl we're watching on eBay this week:
Here we go again: Hank Mobley, Blue Note 1568. This is an original pressing in M- condition for the vinyl and VG++ for the cover. It closes soon and the bidding is in the $2,150 range, except it has yet to reach the seller's reserve price. I noticed on the listing that the seller points to Jazz Collector for help in ascertaining the value. We're pleased an flattered and also reminded that we better upgrade our Price Guide this week.
Here are a couple more nice Blue Notes, starting with: Paul Chambers, Whims of Chambers, Blue Note 1534. This is an original Lexington Avenue pressing in M- condition for both the record and the cover. Tough to find these Lexington Avenue Blue Notes in such nice shape. The price for this one has already surpassed $500 and we won't be surprised if this one goes beyond $1,000. Not just an original Blue Note, but also has the presence of John Coltrane. Also, Johnny Griffin, A Blowing Session, Blue Note 1559. The vinyl on this one is only in VG condition and the cover is VG++. Still, the bidding has already topped $500. My personal experience with original Blue Notes of this era is that records that look to be in VG condition, generally sound pretty darn good, so perhaps other potential buyers are hoping that is the case for this record as well.