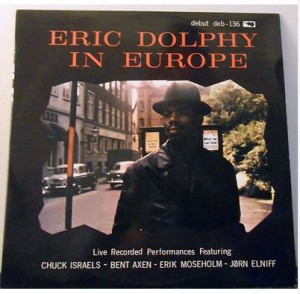 You'll be happy to note — or at least I'm happy to note — that I actually did update the Jazz Collector Price Guide yesterday. The Guide was stuck for a long time at 4,971 records and is now at 5,240 records. There were a lot of interesting items that went into it yesterday, many for the $1,000 bin. I had forgotten about the Joe Henderson Page One that sold for $2,000 and the Donald Byrd Byrd in Hand that sold for more than $1,900. Well, they are now part of the permanent record, so to speak. Here are a few more that will eventually find their way.
Presenting Ernie Henry, Riverside 222. This was an original white label pressing. The record was in VG++ condition and the cove was similar. The price was $371.18. Those white label Riversides are a nice find, when you can find them.
Eric Dolphy in Europe, Debut 136. This was the original Danish pressing. The record and cover were both in M- condition. The price was $2,311.
And here's one I've never seen before: