Posts Tagged 'Jazz Record Collector's Bash'
Apr 4, 2014 Blue Note, Record Shows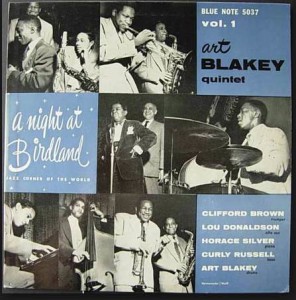 Let's catch up with some of the items in our inbox.
I just received a note that the 40th annual Jazz Record Collector's Bash will take place June 27 and June 28 at the  Hilton Woodbridge in Iselin, N.J. Not a lot of details yet, but there are always sellers with lots of records and there are usually films and discussions and music as well. I used to attend regularly and scored some nice records, but I haven't been in years. June 27 and June 28 are prime bass-fishing season up in The Berkshires, so nature calls. I will, however, be at the WFMU Record Fair, which will take place this year May 30-June 1 in New York City. I will have a booth for Friday only, selling some of the duplicates from my recent score in Baltimore. Normally I would also be bass fishing on that particular weekend, but I have a personal engagement in Manhattan, so I'm stuck. But I'll also have some nice records with me.
Tags: Art Blakey, Jazz Record Collector's Bash, Library of Congress, WFMU Record Fair
Jun 7, 2013 News, Record Shows
Allow me to lay off eBay for a moment to inform you of a couple of upcoming events that may be of interest. Coming up first is the Jazz Record Collector's Bash, June 21 and 22 in Iselin, New Jersey, at the Hilton Woodbridge. It has been many years since I attended one of these but, hey, there are jazz dealers with records for sale, so it's always worth a shot. They also show films and have other activities. I do have a fondly remembered record score at one of these events, a story I have told, probably whenever I've written about the event before. The crux of it is there was this guy with a bunch of nice records, many Prestiges and Swingvilles, and a 10-inch Sonny Criss on Clef, and they were all $5 each and I was the first one to arrive at his table. 'Nuff said.
I also received my notice and contract for the WFMU Record Fair, which will take place
May 13, 2011 Record Shows
If you're in the New York Metropolitan area at the end of June you might want to head over to the Jazz Record Collector's Bash in Iselin, New Jersey. This is a two-day event, June 24 and 25, and there are dealers with records for sale and vintage video presentations. Last year there were 36 dealers on the first day, according to Art Zimmerman, who runs the event. This event has been going on annually for 37 years, believe it or not, and there's a history on the Web site at Jazz Record Collector's Bash. There was a time I used to go regularly, often looking for records, but a couple of times renting a table. I do remember a couple of very nice scores there when I was a dealer: I know I've told this story, but there was a guy who had a bunch of beautiful Prestige Swingville and Moodsville in unplayed mint condition and he was selling them for $5 apiece and I was able to get to him before anyone else, so I scooped up most of the good stuff. I also remember that he had a 10-inch Sonny Criss on Clef that I bought for $5 and eventually sold for $175. Thinking about it, I'd love to go again this year, but I fear my schedule may not permit it. If anyone does go, feel free to write a guest column for the rest of us at Jazz Collector.