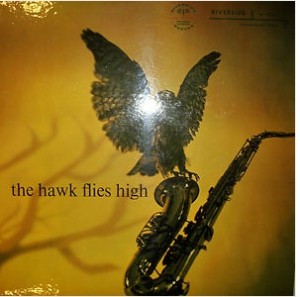 Was perusing eBay this morning, taking a break from my real work, and these are some of items I stumbled upon:
Coleman Hawkins, The Hawk Flies High, Riverside 233. From my experience, we don't see too many Coleman Hawkins records garnering collectible prices these days. We only have a few mentions of Hawk in the Jazz Collector Price Guide. So I was surprised to see that the bidding for this record had already surpassed $150, closing later today. I was surprised again to see that the record was not an original pressing — it has the blue label as opposed to the white label. It is in nice condition, however, M- for the cover and the record.
This record was closing just as I was perusing, not that I would have bid on it: Charlie Mariano With His Jazz Group, Imperial 3006. This was an original 10-inch pressing in VG+ condition for both the record and the cover. It was sitting at $95 with three minutes left and wound up selling for $180. It also had more than 150 page views, which surprised me. Glad that people are still interested in 10-inch Charlie Mariano records.