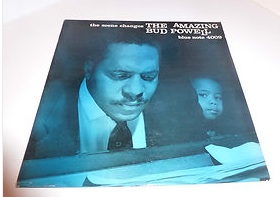 Here's some jazz vinyl we're watching on eBay. Why is it that we — we collectors, that is — focus much more on what we are missing than on what we have?
Bud Powell, The Scene Changes, Blue Note 4009. This is an original pressing that is listed in M- condition for the record and VG++ for the cover. I was wondering about the kid in the picture on the cover and went to pull out my copy to see if there was mention in the liner notes but, alas, I do not have an original copy of The Scene Changes, much to my chagrin. This one is already at more than $300 with more than a day to go, so this will not be the copy that fills the hole in my collection.
Jackie McLean, The New Tradition, Ad Lib 6601. This is an original pressing in VG+ condition for the vinyl and VG for the cover. It has many days to go, is more than $500 at this point, and has not yet met the seller's reserve price. Jackie McLean, Jackie's Pal, Prestige 7068. This one is closing today. The record looks to be in VG++ condition, while the cover is VG.The price is about $230. Hmmmm. Not bad. I kind of like that the cover is not perfect. This would fill a gap. I had both of these Jackie records at one time, but sold them.