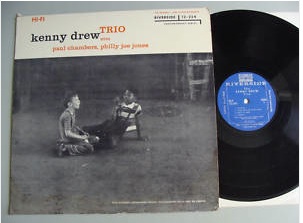 Here are some jazz vinyl odds and ends we've been watching for various reasons. We're not expecting that all of these will end up in the Jazz Collector Price Guide, but they all have something of interest.
We were watching this one because it was listed as an original pressing even though it wasn't: Kenny Drew Trio, Riverside 224. This was a blue-label pressing when the original was really a white label. The seller was very clear in stating that this was a "first mono pressing." Ah well. The record was only in VG- condition and the cover was VG. Not an original and not in great condition and it sold for $87. That seems to be the going rate these days perhaps and, perhaps, maybe someone needed a new cover. Not for me in that condition at that price.
We were watching this to get a sense of what the solid blue label Blue Notes are selling for these days: Dexter Gordon, Dexter Calling, Blue Note 84083. This  in M- condition for both the record and the cover and it sold for $29. This probably means that a Liberty pressing of this record would be in the $50 or $60 range, don't you think?