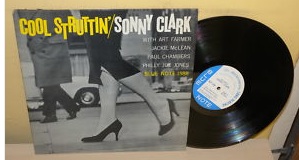 Here's an update on some of the jazz vinyl we've been watching on eBay:
Let's start with the $1,000 bin, this one from last week: Sonny Clark, Cool Struttin', Blue Note 1588. This was listed in M- condition for both the record and the cover. It sold for $1,675. Hmm, in the Jazz Collector Price Guide we've had four or five of these sell for more than $3,000. What's going on? Is there something in the listing that would indicate this is not an original pressing? Looks good to me. I know the listing would have been enhanced by more and better pictures, but still. . .
As we saw last week, prices for certain records with Andy Warhol covers seem to be rising. Here's an example: Kenny Burrell, Blue Note 1543. This was an original Lexington Avenue pressing — the last original Lexington Avenue, right? — and the record was VG but the cover was VG+. It sold for $833. That's the highest we've seen in the Jazz Collector Price Guide for any Burrell record.
Here's one that provides an answer to a question we posed the other day: