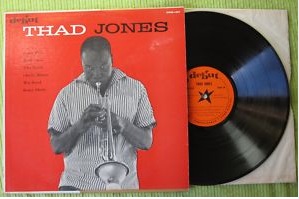 Here's some more rare jazz vinyl we've been watching on eBay, starting with: Thad Jones, Debut 127. This looks to be an original 12-inch LP, which looks to me like a combination of his 10-inch LP with Mingus and another 10-inch LP, also on Debut? Don't have this particular record, so I'm not sure. Someone will know, i.e., Rudolf. Anyway, this one was listed in VG+ condition for the cover and Ex for the record, which is probably VG+ as well. It sold for $258.
Benny Golson seems to be more popular as a collectible artist than he ever was as a jazz artist, if you know what I mean: Benny Golson, Groovin' With Golson, New Jazz 8220. This was an original pressing in M- condition for the record and the cover. It sold for $310.
Here's a record that's not only unplayed, it is actually in a virgin state: Lou Donaldson, Lou Takes Off, Blue Note 1591. It sold for $511.01.