Posts Tagged 'Oliver Nelson'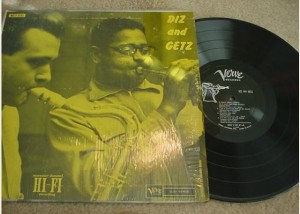 When I was buying and selling regularly on eBay a few years ago I would monitor the listings religiously. Every day I would go through all of the listings, one by one, page by page, and I pretty much never missed a thing. These days, I'm more likely to do occasional searches and focus on items I'm most interested in. Last night I had some time, so I went through my old routine of listing by listing, page by page. Here's some of the jazz vinyl I watched.
Dizzy Gillespie and Stan Getz, Diz and Getz, Verve 8141. This was an original pressing with the trumpeter logo. The record was in M- condition and the cover was VG+, although it seemed to have original shrink wrap. The start price was $29.95. There were no bidders. Really? When I started collecting this would have been a nice commodity, hard to find, great artists, great collectible label. And it's got quite a nice cover to boot. Now it's not worth thirty bucks? Wow. How about Stan Getz and Chet Baker, Stan Meets Chet, Verve 8263. This one says "trumpet logo" in the headline, but there's no picture of the label so I actually have to wonder if it is original. The record was listed in VG++ condition, close to M-, and the cover was VG+. The price was $57.
Tags: Bethlehem Records, Bill Evans, Cadet Records, Chet Baker, Dizzy Gillespie, Dorothy Ashby, Oliver Nelson, Sal Salvador, Stan Getz
Jan 12, 2012 Jazz Vinyl, Jazz Vinyl on eBay, Prestige, The Great Jazz Vinyl Countdown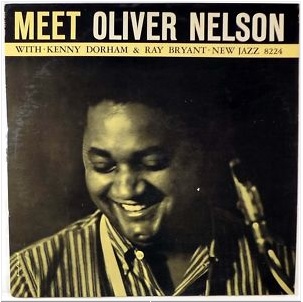 I just logged onto eBay and as I was signing in this record was closing: Meet Oliver Nelson, New Jazz 8224. It was an original pressing with the purple label and deep grooves, featuring Kenny Dorham on trumpet. It looked to be in M- condition for the record and probably VG++  for the cover. The price was $157.50. I have an interest in this record because I was just looking at a copy in my apartment, where it is among a batch of original records I have just scored. There was a time, many of you will remember, when I was talking of scaling back my collecting and doing a Great Jazz Vinyl Countdown, but I still can't seem to give up the habit — addiction? — of buying more records. This batch in front of me is quite cool. On the top is an original pressing of Cool Struttin' by Sonny Clark and just below that is an original pressing of Soundin' Off by Dizzy Reece. Someday soon I will share the story of this particular score but, in the meantime, I have some records to clean, including Meet Oliver Nelson on New Jazz, worth as much as $157.50.
Tags: Dizzy Reece, Oliver Nelson, Sonny Clark
Aug 22, 2011 Blue Note
It isn't often I see records or even labels I'm not familiar with, but here's one that was on eBay this weekend. It was listed as an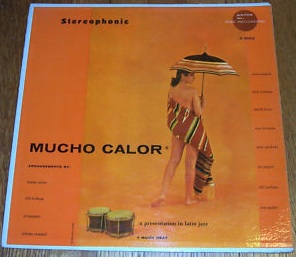 Art Pepper record: Mucho Calor, Andex S3002. Not only have I never seen the record before, I've never seen the Andex label. I have a strong feeling this is some kind of reissue or compilation, but not sure what the root label is. It's a stereo pressing, but it's supposed to be 1957, which is pre-stereo. Plus, with the other artists listed, it doesn't look like an Art Pepper record nor does it look like a record date that was led by Pepper. This one was probably VG++ for the record and VG+ for the cover and it sold for $87.66. I'm sure someone out in the Jazz Collector audience will be able to shed a little light on this one.
This one fetched quite a nice price: Thad Jones, Mad Thad, Period 1208. Admittedly, this is a hard to find record, but I haven't seen it often go for this price. The record was in VG++ condition and the cover was VG. The price was $610 and there were 27 bids, which is a pretty high number.
This one would typically get a higher price, but the listing wasn't very complete, so purchasing the record was a gamble:
Tags: Andex Records, Art Pepper, Impulse Records, Jackie McLean, Jazz Vinyl, Oliver Nelson, Period Records, Thad Jones
Jul 27, 2010 Jazz Vinyl, Jazz Vinyl on eBay, Prestige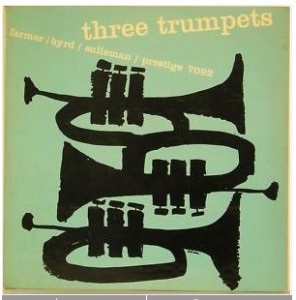 We have an eye on some Prestige jazz vinyl on eBay. Despite the high price of the Jackie's Pal we noted yesterday, it seems the disparity between prices on original Blue Notes versus original Prestiges seems to be getting wider. Here are some of the ones we're watching:
Donald Byrd, Art Farmer, Idrees Sulieman, Three Trumpets, Prestige 7092. This is an original New York pressing. The record is in M- condition and the cover sounds to be VG++ as we would rate it. The starting price is around $170 and there are no bids.
This one is of a similar vintage but from a different seller: Art Farmer and Donald Byrd, Two Trumpets, Prestige 7062. This is also an original yellow-label New York pressing. The record is M- and the cover is VG+. The start price is $150 and, again, there are no bidders. There's a $200 buy-it-now price on this, which would seem pretty reasonable to me.
Olio, Prestige 7084. This is an album featuring
Tags: Art Farmer, Donald Byrd, Doug Watkins, Elvin Jones, Idrees Sulieman, Jazz Vinyl, Mal Waldron, Oliver Nelson, Thad Jones
Apr 11, 2010 Features, Prestige, Verve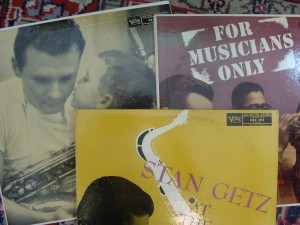 OK. The auction records are here, in a newly created bin on the floor of my music room/office. It's fun looking through the records, of course, encountering pleasant surprises, but what I am most looking forward to is listening to them. That's the best thing about getting new records, or even getting new copies of old records: Exploring and discovering (or rediscovering) the music. As I type this I'm listening to Wes Montgomery Full House and it's probably the first time I've listened to this LP in 10 years or more. With 10,000 records a lot of great LPs wind up sitting on the shelf. I remember the first time I heard this record. I was in a car with my friend Dan and we had the radio on and we heard a Wes solo and we knew immediately it was Wes and then the tenor player starting playing and we were both blown away because he was really cooking and we couldn't figure out who it was. It was, of course, Johnny Griffin. And now I am listening to this beautiful near mint copy of this record again and, ah, what a nice way to start a gorgeous Sunday morning. Anyway, back to the auction items:
The next one I purchased was listed as: Stan Getz, Three Verve LPS with Trumpeter labels. Price $40.95. These turned out to be For Musicians Only with Dizzy Gillespie and Sonny Stitt;
Tags: Jazzland, John Coltrane, New Jazz, Oliver Nelson, Red Garland, Stan Getz
Jun 3, 2009 Blue Note, Impulse, Jazz Vinyl, Jazz Vinyl on eBay, Prestige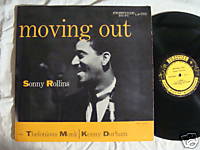 We don't usually plug our own records on eBay, but we've got some nice items closing later today and later this week and the prices are not too high. So, perhaps there are bargains out there. Here are some of the items worth watching. After you look at these, please go to View Seller's Other Items and click "list." 
Sonny Rollins, Moving Out, Prestige 7058. This is an original New York pressing with the yellow label and deep groove. The record is in VG++ condition and the cover is VG+. It sounds great. The current price is just a little over $100.  In the Jazz Collector Price Guide we've seen M- copies of this record sell for nearly $500. 
Herbie Hancock, Takin' Off, Blue Note 4109. This is a New York USA pressing that is autographed by Herbie Hancock. The record is in VG+ condition and sounds great. The cover is VG++. The current price is just
Tags: Herbie Hancock, Oliver Nelson, Sonny Rollins
Feb 6, 2009 Blue Note, Impulse, Jazz Vinyl, Jazz Vinyl on eBay, Prestige, Price Guide, Riverside
Some more for the Jazz Collector Price Guide:
Duke Ellington and John Coltrane, Impulse 30. This was an original white label promo copy. It was in M- condition, both record and cover. The price was $326. We've actually seen this go for slightly higher before. Interesting — I went to a play with Mrs. JC the other day (Mrs. Jazz Collector, not Mrs. John Coltrane), and they were using 1960s mood music between scenes. One of the tracks was from this album, In a Sentimental Mood. After the fourth note, I was able to identify it. Not difficult really — it's a very recognizable version. Excellent play, by the way: The American Plan. Worth seeing if you're in New York.
We were watching these two LPs from Serge Chaloff and questioning how big a difference the presence of Sonny Clark was have on impacting the price. Quite a bit, it turns out:
Tags: Capital Records, Duke Ellington, Ernie Henry, Jazz Collector Price Guide, John Coltrane, Lee Morgan, New Jazz Records, Oliver Nelson, Serge Chaloff, Sonny Clark, Strata-East Records, The American Plan, The Heath Brothers
Dec 30, 2008 $1000 Records, Blue Note, Impulse, Jazz Memoirs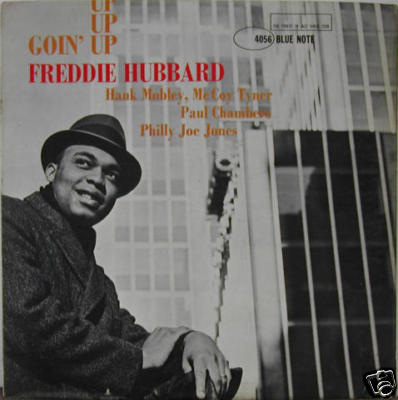 I'm sure many of you saw the news that Freddie Hubbard passed away yesterday at age 70. Hubbard, of course, was a seminal figure in the post-bop era. We write about his records often in the posts at Jazz Collector, particularly since his LP Open Sesame, Blue Note 4040, is one of the top collectibles, often selling for more than $1,000. He also played on Tina Brooks, True Blue, Blue Note 4041, another of the rarest of jazz collectibles. Our own memories of Hubbard stretch back to the great Oliver Nelson LP, The Blues and the Abstract Truth, Impulse 5, where he played in a great setting with Bill Evans, Paul Chambers, Eric Dolphy and others. I always remember Nelson stating that Hubbard sounded like John Coltrane playing the trumpet, and that always stuck with me. Hubbard was never quite as inventive as Trane or as experimental, but he certainly had a style and sound that was immediately recognizable. Other favorite early recordings are Eric Dolphy Outward Bound, New Jazz 8236, and Art Blakey, Buhaina's Delight, Blue Note 4104. I saw Hubbard many times at the Village Vanguard in the early 1970s, and he was always a passionate, charismatic performer. What are some of your memories, and favorite Hubbard recordings? Please feel free to comment on this post.
Tags: Art Blakey, Eric Dolphy, Freddie Hubbard, Oliver Nelson, Tina Brooks
Jun 28, 2004 10-Inch LPs, Blue Note, Clef, Impulse, Jazz Vinyl, Jazz Vinyl on eBay, Prestige, Verve
Back from the weekend, so it's time to catch up on eBay. Here are some of the records we were watching.
 Donald Byrd Sextet, Transition 5. This was an original pressing in what seemed to be M-/VG++ condition. The LP had the booklet and sold for $300.
Eric Dolphy at the Five Spot, Volume 1, New Jazz 8260. This was an original pressing with the purple label. The seller listed it in M-/M- condition, although there seemed to be ringwear on the cover, based on the photo. Still the price was $278.99.

Read the rest of this entry »
Tags: Ben Webster, Charlie Parker, Dial, Dizzy Gillespie, Donald Byrd, Eric Dolphy, Impulse, New Jazz, Oliver Nelson, Roy Eldridge, Tadd Dameron, Transition