Posts Tagged 'Ray Draper'
Feb 24, 2012 10-Inch LPs, Blue Note, Prestige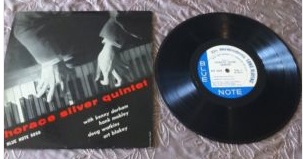 Here's some of the jazz vinyl we're watching on eBay, starting with: Horace Silver Quintet, Blue Note 5058. This is an original Lexington Avenue pressing that looks to be in M- condition for both the record and the cover. We've seen this one sell for as much as $537 in worse condition in the Jazz Collector Price Guide. This one has a start price of $99 and it also has a reserve. So far there are no bidders and there are only two days to go. I imagine someone will take a chance on this great record, but who knows.
Never figured out why there wasn't more of a market for this one: Ray Draper Quintet Featuring John Coltrane, New Jazz 8228. This is a nice record, with Coltrane doing Sonny Rollins' Paul's Pal, which appears on Tenor Madness, which also features Coltrane. Perhaps it's the idea of a tuba player as the lead artist. This one is an original pressing and it is listed in M- condition for the record and the cover. The current price is $111 and there's only one bidder.
Kenny Burrell and Jimmy Raney, Two Guitars, Prestige 7119. This is an original New York yellow label and it looks to be in VG++ condition for both the record and the vinyl. Wouldn't mind having a copy of this one, but the price is already out of my range at $292.
Tags: Horace Silver, Jimmy Raney, John Coltrane, Kenny Burrell, Ray Draper
Mar 19, 2011 Blue Note, Prestige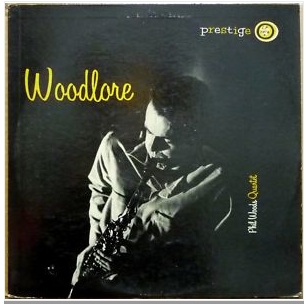 Here's some jazz vinyl we've been watching on eBay:
Phil Woods, Woodlore, Prestige 7018. This is one of those great early Prestiges that, somehow, I've never been able to find an original pressing for my collection, despite 40-plus years of trying. I do have a Japanese pressing, which sounds good, but an original with the kakubushi cover, how can you ever compare? This was an original pressing from Atomic records. The record looked to be n M- condition and the cover was VG+. The price was $493.88, pretty reasonable in today's market I would say.
Cliff Jordan and John Gilmore, Blowing in From Chicago, Blue Note 1549. This is another in the same category as Woodlore, I'm still searching for an original pressing for my own collection. Gives you a sense how rare these are — in all of my 40 years of exploration to have never come upon a reasonably priced copy of either one of these records. This one was sold by my friend Steve at Roundagain records in Providence and it was in VG++ condition for the record and what looked to be VG- for the cover. It sold for  $632.
Tags: Cliff Jordan, John Gilmore, Phil Woods, Ray Draper
Apr 26, 2004 Blue Note, Jazz Vinyl, Jazz Vinyl on eBay, Prestige
eBaying
Missed out on a few interesting items the past few days. In some cases the prices got a little too rich for my blood, in others I forgot to bid. My friend recommends buying Sniper software, which I plan to do today. I'll let you know how it works out. Anyway, it was a busy weekend on eBay for some high-end collectibles. Here are some examples.
Kenny Dorham, Quiet Kenny, New Jazz 8225
This was an original pressing in M- condition, record and cover. Price: $787.
If you watch eBay very closely, your point of view can get distorted. Case in point: I look at this and wonder if the buyer got a bargain at $787. Here's why: Last week the same item in virtually the same condition sold for $1,261. It's hard to conceive of $787 for one record as a bargain, but the reality is that prices are set by the market, especially on eBay. Seeing this record sell twice in the past week breaks my heart. I had an original mint pressing of this LP, which I sold years ago for a fraction of these prices. I used the money partially to buy a boat. Two months later, the boat sank. To this day I've never been able to replace Quiet Kenny. Here are a few more examples of wild market swings. This weekend one dealer sold the following records for the following prices:
Dexter Gordon, Dexter Calling, Blue Note 4083. Record and cover were M-. Price: $395
Sonny Rollins, Moving Out, Prestige 7058. Also M-. Price: $295
Donald Byrd, The Cat Walk, Blue Note 4075. Also M-. Price: $325
Dexter Gordon, Doin' Allright, Blue Note 4077. Also M-. Price: $510
Pretty hefty prices, right? Here's what's more remarkable: One of these was not an original pressing: The Rollins LP had the New Jersey label, not the New York label. Also of interest of the weekend: The very rare Jackie McLean record on Ad Lib was up for sale. The record was in G condition, the cover VG-. The bidding topped out at $588.75, but the record didn't sell because it didn't meet the dealer's reserve price. This is another one of those records I sold years ago to buy that damn boat. Ugh! At Jazzcollector.com we keep an ongoing tally of collectible record prices on eBay. We update it at least once a week. Here's a look at the latest prices. Here's a look at the larger database.
Upcoming on eBay
There always seem to be items of interest on eBay. I fully believe that if you had enough money, time and interest, you could buy up the entire Blue Note and Prestige catalogues in near mint condition. Anyway, here are some of the items we're watching over the next couple of days:
 John Coltrane, Giants Steps, Atlantic 1311. This is an original mono pressing with the bulls-eye logo. Last time I looked the price was $99. I recently bought a stereo copy with the bulls-eye logo for $50. This dealer also has a nice copy of Soultrain, Prestige 7142 and some other good items. After you look at Giant Steps click view seller's other items to see what else he has.
 The dealer who sold Quiet Kenny also has some interesting items this week. He sold a bunch of original Blue Notes and Prestiges last week, all in beautiful condition. His next auction this week is Hank Mobley, Peckin' Time, Blue Note 1574. The start price is $850. After you look at this, also check out his other items.
Here are a few more upcoming items to whet your appetite:
Bud Powell, The Scene Changes, Blue Note 4009
Ray Draper, Tuba Sounds, Prestige 7096
Serge Chaloff, Complete  Sessions, Mosaic 147
We can't vouch for any of these dealers, but they all seem reputable and we've had successful dealings with some of them. In all cases, you should look and see what else they have for auction this week. It never hurts to look.
Tags: Ad Lib Records, Atlantic Records, Bud Powell, Dexter Gordon, Donald Byrd, Hank Mobley, Jackie McLean, John Coltrane, Kenny Dorham, Mosaic Records, New Jazz, Ray Draper, Serge Chaloff, Sonny Rollins