Posts Tagged 'Sarah Palin'
Oct 3, 2008 Jazz Vinyl, Jazz Vinyl on eBay, Prestige
We promised to point out some of the interesting items coming up this weekend on eBay, with some appropriate (and pithy) commentary, as always. Here's the first batch. We'll do follow-up posts as the weekend progresses, so stay tuned:
Once in a while I run into albums I've never seen before and here's one: Bob Gordon, Moods in Jaz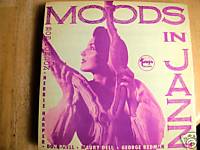 z, Tampa 26. I know this is a record from the 1950s, but I have to ask about that cover: Is that Sarah Palin doing who knows what to a moose? Click the link for a better view, but this is definitely one weird cover.
Roost seems to be an under-valued label, but we've seen this one go for decent prices in the past: Beverly Kenney with Jimmy Rowles and the Basie-ites, Roost 2218. This one is currently under $20, in decent condition.

Read the rest of this entry »
Tags: Beverly Kenney, Bill Berry, Bob Gordon, Jimmy Rowles, Modern Jazz Quartet, Roost, Sarah Palin, Sonny Rollins, Tampa