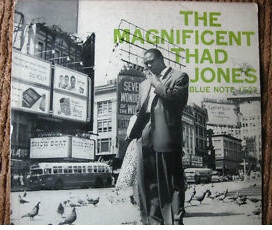 Here's some jazz vinyl we've been watching on eBay:
The Magnificent Thad Jones, Blue Note 1527. This was an original Lexington Avenue pressing with the flat edge. The record was in VG condition and clearly had some issues with surface noise based on the seller's description. The cover was VG+. The opportunity to own an original Blue Note is always enticing. This one sold for $261, not at all unreasonable, but I didn't pull the trigger. Perhaps next time.
That copy of Sonny Clark, Sonny's Crib, Blue Note 1576, finally wound up selling. If you recall, this one was in great, mint condition, but it was not an original. It had the West 63rd label but no deep grooves. The seller was able to get $399.99. More power to him.
This one seems to perhaps be a bit over-graded based on the seller's description, but it is still a nice original collectible in nice condition. Paul Quinichette, On the Sunny Side, Prestige 7103. This one sold for $213.50.