Posts Tagged 'Thelonious Monk Autograph'
Apr 19, 2013 Autographs, Blue Note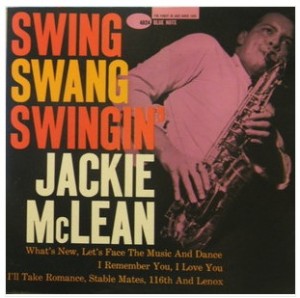 Sorry for sporadic posting schedule this week. Been crazy with work and now I am in Las Vegas, of all places. I'll do my best. Here are some nice records that have been sold on eBay in my absence, starting with:
Jackie McLean, Swing, Swang, Swingin', Blue Note 4024. This was an original pressing in what was described as "fantastic" condition, which we would assume would be M-. It sold for $713.
This one got a nice price, not quite like the one last month: John Lewis and Sacha Distel, Afternoon in Paris, Versailles 12005. This was an original French pressing in VG condition for the record and VG+ for the cover. It sold for $345. Clearly, this record is moving up in desirability among collectors.
This one didn't sell yet, but it's quite interesting: Thelonious Monk, Genius of Modern Music, Blue Note 1511. This looks to be an original Lexington Avenue pressing with a very clear autograph of Monk on the cover. Whether the signature is legitimate, we'll leave that to our readers. Don Lucky — what do you think? Oh, yes. The price is about $2,000.
Tags: Jackie McLean, John Lewis, Thelonious Monk, Thelonious Monk Autograph
May 29, 2012 Autographs, Blue Note, Norgran, Prestige, Promo Copies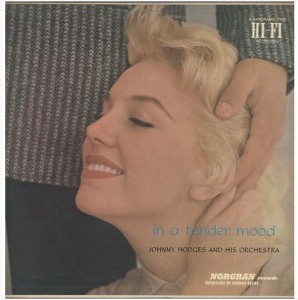 Sorry for taking such a long break over the Memorial Day weekend. But we are back to our post at Jazz Collector and ready to begin posting regularly again, starting with a catch-up of items we were watching last week on eBay.
First there was that copy of Miles Davis and the Modern Jazz Giants, Prestige 7150, that was autographed by Miles, John Coltrane and Thelonious Monk. It was offered by the Jazz Record Center so there was some level of credibility attached to the autographs, although the listing didn't say anything about independent verification. The price for this was $4,305. It's certainly a one-of-a-kind item, so there is probably no price too high to have surprised us. This seems pretty reasonable for such a rare item. Here are a couple more from the same auction: Art Pepper, Intensity, Contemporary 3607. This was not only signed by Art Pepper, he also put the date and his home address with the signature. The record and cover both looked to be in M- condition. This one sold for $150.27. This one was not signed: Johnny Hodges, In a Tender Mood, Norgran 1059. This was an original yellow label pressing in M- condition for both the record and the cover. It sold for $161.50. I was watching this because I like to keep an eye on the original Norgrans, just to see that there is still a collector's market for them, since they really reflect artists mostly from the pre-bop era, with a few exceptions, of course. This one also has that weird kind of cover from the era, with a picture of a white woman as the sole image on the picture of an album by a black male artists. Is it really possible that
Tags: Art Pepper Autograph, Contemporary Records, Freddie Hubbard, George Wallington, Hank Mobley, John Coltrane Autograph, Johnny Hodges, Miles Davis Autograph, Progressive Records, Thelonious Monk Autograph
May 20, 2012 $1000 Records, Autographs, Blue Note, Prestige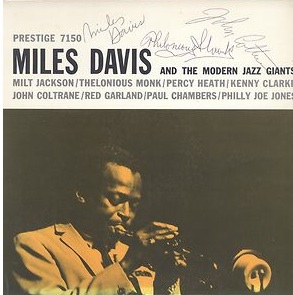 My goodness, here's a jazz collectible to make the heart flutter (my heart, at least): Miles Davis and the Modern Jazz Giants, Prestige 7150. This is an original yellow label pressing, although the record itself is a reissue. No big deal, right? Except this one is autographed by, get this, Miles Davis, John Coltrane and Thelonious Monk. That's about as an impressing a lineup of jazz autographs as you could get on one record. This one is being auction by The Jazz Record Center so I would be one to trust that the signatures are original. Perhaps Don-Lucky or another autograph collector might shed more light. In any case, the bidding on this one starts at $2,500 and there is already a bid so the record will sell. If I had this one, I'd frame it for sure.
Here we go again: Hank Mobley, Blue Note 1568. This is an original original pressing, based on all of our feedbacks and comments last week, and it has the New York 23 on the B Side. This one is in M- condition for both the record and the cover and, based on the seller's description, it sounds like it's in amazing shape. The auction closes later today, in about four hours, and the bidding is in the $2,000 range. My guess is that it goes in the $4,000 range. If it was from a seller with more history and more of a reputation using this description it would probably break the $5,000 barrier. Maybe even more. And maybe it will with this seller. We'll see soon.
Tags: Hank Mobley, John Coltrane Autograph, Miles Davis Autograph, Thelonious Monk Autograph
Dec 15, 2011 Autographs, Prestige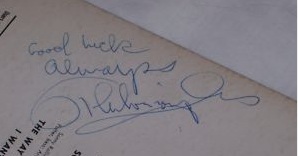 Perhaps I'm naive, but when I see an autographed record I always assume that it is legitimate and not a fraud. It seems kind of weird to me that someone would try to copy the autograph of a jazz artist to try to inflate the value of the record when, in many cases, the autograph actually devalues the record, another oddity that I will never understand. I was watching this record on eBay: Thelonious Monk, Work, Prestige 7169. This was a yellow label pressing and an "original" in the sense that it was the first pressing of this record, which is a reissue of an earlier record. Normally it would be worth about $50 or so, but this one happens to have signatures on it from both Monk and Sonny Rollins. To me, this is a gem, assuming the autographs are legitimate, which I do. I tend not to collect autographs, although something like this is tempting, so I passed the listing on to one of our loyal readers who does collect autographs. I see from the geography of the winning bidder that our friend did not bid for this. The start price was $500 and there was one bidder. Don-Lucky — what happened? Seems like a good price for this one.
Tags: Sonny Rollins, Sonny Rollins Autograph, Thelonious Monk, Thelonious Monk Autograph