An Introduction and A Few Things I've Been Watching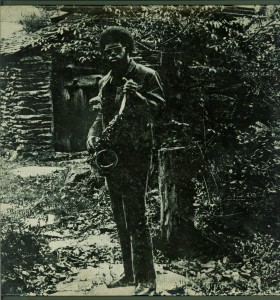 Greetings – some of you may know me from the comment threads on a number of Al's posts over the last couple of years; I'll be stepping in with an attempt to fill the large JC shoes in Al's absence in a couple of weeks. Before he takes a much-needed vacation, however, I thought it would make sense to introduce myself a little bit.
My name is Clifford Allen and I am a jazz collector, though perhaps of a slightly different ilk than what generally gets discussed on these pages. While certainly Blue Notes, Prestiges and other less well-known labels in their original form are of interest, my main collecting area has long been in the realm of "free jazz" (which, if the prices on eBay are any indication, is far from "free"). I am also very into European jazz and a host of European pressings of perhaps more common or well-known modern jazz records and artists (the Esquires would be one example).
Since the early 2000s I've been writing reviews and conducting interviews with musicians – these have appeared in All About Jazz, the New York City Jazz Record, Signal to Noise, Paris Transatlantic, Point of Departure, Tiny Mix Tapes, Bagatellen, One Final Note, Burning Ambulance, and my own occasionally-updated (sadly, a bit less than I'd like this past year) blog, Ni Kantu.
Anyway, here are a few things I've been watching:
Amid the nice stack of records that Fred over at Jazz Record Center was selling, there was a beautiful-looking copy of saxophonist Joe McPhee's second LP, Nation Time, released privately by CjR Records. This was a first pressing (there's a second with a yellow label) in M- condition for both the record and the cover. I've seen these do more damage, but this copy still went for $480. Considering the fact that other titles on the label don't go for nearly as much, and this one does appear from time to time, I'm still on the hunt for an inexpensive clean copy (hype sticker a bonus – one can dream). Perhaps the funky aspects of "Shakey Jake" bring it into the higher-priced realm? It looks like a couple other copies have gone for similar amounts recently, so it may take a while to pass through my hands.
From our friend over in Italy, bullsite2000, who tends to get very high prices for some uncommon jazz records in clean condition, there was this one: guitarist/bassist Franco Cerri and the International Jazz Meeting, an original Italian Columbia pressing from 1961 with the flipback sleeve and flat rim. Rare enough that condition was secondary, the LP was probably VG although playback might've been a bit better, while the cover was listed as VG+. No matter the presence of autographs (which is a little weird for such an obscure album), which I'd say would downgrade the jacket, it otherwise looked pretty bright. It still went for $800, though I've seen M- copies top $2,000. The appearance of such cultish European jazz figures as pianist George Gruntz and saxophonists Barney Wilen and Flavio Ambrosetti certainly don't hurt matters.
The same seller also did fairly well on this avant-garde album, which I've always found intriguing as much in concept as in presentation: Nommo, a privately-issued LP from drummer Milford Graves and pianist Don Pullen, on their SRP imprint from 1966. I actually do have a copy in my collection, and it's a nice record. This is the second volume of recordings taken from a concert at Yale University – the first volume came with a heavy-stock cover that was hand-painted by Graves himself, and features Pullen on electric piano in parts. Very heavy stuff. For Nommo, our Italian friend was able to get about $375 for a copy in M- condition for the vinyl and a similar grade for the cover, although I might be a little nervous shelling out with that sticker stain.
At any rate, happy bidding and I'll be back with a few more from the JC underground.