Guest Column: Collecting Jazz 45s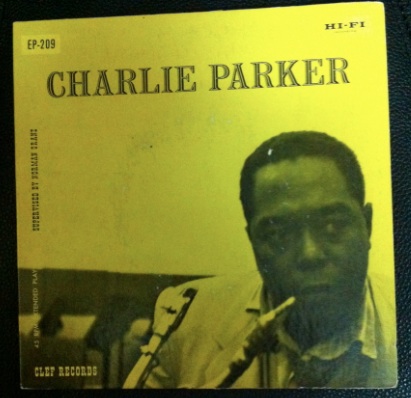 A couple of weeks ago friend of Jazz Collector Erich Schultz asked why we never wrote about  collecting jazz 45s here at Jazz Collector. We said that we didn't collect them ourselves, we didn't know of any collectors and no one had ever even asked. We also invited him to write a post on the joys of collecting jazz 45s and, voila, here it is. Erich, it's all yours:
Collecting Jazz 45 RPM Records, by Erich Schultz
Although I have a large library of jazz 10" and 12" 33 RPM records, I also have over 1,000 jazz 45 RPM records as well. I starting collecting these 45's about five years ago, and I have picked up most of them in the Los Angeles area when I visit my two children (I live in the San Francisco Bay Area.) I also get them sometimes through bulk sales on ebay. My reasons for collecting them include:
They are a great way to introduce jazz to individuals who don't have the attention or patience to listen to an entire album. Many of the folks who visit us like listening to 50's and 60's doo-wop, surf and rock and roll 45's (I have a lot of those as well.) However, they seem to get interested when I play jazz 45's at the same time (I get my jazz converts on person at a time!)
The 45's are portable, easy to store, and are small time capsules of history. Most of my jazz 45's are from the 1950's and early 1960's. Many have two songs on each side, which are the EP (extended play) issue series that were designed to capture (in two discs) the same music that was contained in the 10" albums;
They are inexpensive to procure. Most of my jazz 45's cost less that $5 each, with most being in the $1-2 dollar range. I have purchased 4 disc boxed sets for as little as $3;
They have great album cover art, which in many cases is identical to the album cover art of the larger 10" and 12" discs;
The record label designs are fundamentally different than their LP counterparts, and are quite distinctive (my favorite 45 labels are Blue Note, Prestige, Fantasy, Clef, Verve and Riverside);
They sound great; almost all of the 45's I have are on mono, and many are in VP++ to NM- condition;
It's very easy to do arrangement, instrument or other comparative surveys. For example, if I am interested in 1958 styles of tenor saxophonists, I can put on 7-8 45's and within an hour have a good comparison;
The A and B side song choices make for some interesting contrasts. In many cases (the Shorty Rogers 45's being an example) a significant portion of the musicians are different between the A and B sides.
Here are some of my favorite jazz 45's, most of which are the two-song-per-side extended play versions. The years listed are the recording dates, not the date the records were issued:
Jimmy Smith, All Day Long (Parts 1 and 2), Blue Note #1676, 1957
Cal Tjader Quintet, Mamblues/Sonny Boy, Fantasy #538, 1958
Shorty Rogers and His Giants, The Pesky Serpent/Diablo's Dance/Pirouette/Indian Club, RCA Victor EP-3137, 1953
Sonny Rollins, The Last Time I Saw Paris/Just In Time, Riverside #604, 1957
Sonny Rollins, Decision (Parts 1 and 2), Blue Note #1669, 1956
Sarah Vaughn, Poor Butterfly/April Given Me One More Day, Mercury #71085, 1957
George Wallington Trio, Hyacinth/Joy Bell/I Didn't Know What Time It Was/It Was Find and Dandy, Savoy XP-8125, 1951
Charlie Parker, Kim/Cosmic Rays/I Hear Music/Laird Baird, Clef EP-209, 1953
Zoot Sims, There I've Said It Again/Jaguar/Dream/Baby Won't You Please Come Home, Prestige EP-1306, 1953
The Gerry Mulligan Quartet, Bernie's Tune/Lullaby of the Leaves/Frensi/Nights at the Turntable, Pacific Jazz EP4-13, 1956
Bob Brookmeyer and Phil Orso, Wizzard's Gizzard/Ozzie's Ode/Chiketa/Stop Watch, Savoy XP-8118, 1954
Howard Rumsey's Lighthouse All-Stars, Bernie's Tune/All the Things You Are, Contemporary EP-C4004, 1953
Milt Jackson Orchestra (arranged by Tadd Dameron), 'Round Midnight/Namesake, Riverside 45479, 1962
I hope you enjoyed reading this brief article. I realize that not many collectors have jazz 45's, but it is an interesting facet of record and label history. Many independent record labels survived on their 45 sales, and the 45 format did allow increased accessibility for teenagers and ultimately allowed them control over their music tastes instead of what their parents dictated.