A Couple of Golden Oldies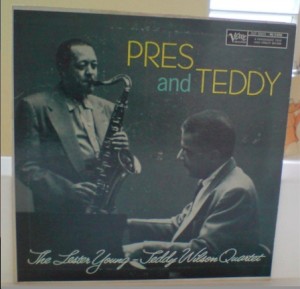 Glad so many of you are having fun playing with The Stupid List and enjoying it in the context in which I put it out there. Meanwhile, my watch list on eBay is overflowing and I will start with Lester Young and Teddy Wilson, Pres and Teddy, Verve 8205. This is an original pressing with the trumpeter logo. It is listed in what looks to be M- condition for the record and VG for the cover.  The start price is about $10 and so far there are no bids, with five days left on the auction. This is not a record I would normally be watching here and, in fact, the only reason I noticed it was because I am watching some of the seller's other items. A couple of things strike me. So far, in all of the comments on The Stupid List post, not a single respondent has mentioned Lester Young as a top five favorite jazz artist, which seems somewhat incredible. If Jazz Collector had been around 30 years ago, Pres probably would have been as predominant on the lists as Coltrane or Rollins. It shows how tastes change and, as time gets further away from the musician's primary artistic contributions, people tend to either forget the influence, or diminish it or, perhaps, just move on to other artists. Louis Armstrong
hasn't made any of the lists either. I did consider Lester Young for my lists but, in the end, his real contribution came in the pre-bebop era and my favorite artists all seem to be bop and beyond. I find many of Lester's records from the 1950s on Norgran and Verve to be beautiful and haunting, but on some of them his playing is so sad I actually find it hard to listen to them. I don't think I've ever been that sad in my life, and I certainly hope I never am. That said, IMHO Pres and Teddy is one of the best of the Lester Young Norgran/Verve records and I've always loved it. My own copy of this record can use an upgrade, so I may wind up in the action for this auction.
One final note on Lester Young, which is a story I have probably told in the past, but bears repeating. Back in the early 1970s, when Sonny Rollins was playing regularly at clubs, a few friends and I (mostly Dan Axelrod, who is mentioned here often), would go down pretty much every night and listen to Sonny, staying for all of the sets. In those days, you didn't have to pay a separate music charge for each set, particularly during the week. Sonny began to recognize us after seeing us so often, and he would chat with us occasionally. There was one night where he asked us why we came to see him night after night, and our response was pretty simple: "It's because you are the greatest!" And we said this and Sonny gave us a half smile and looked at us with a mixture of appreciation and admonishment and shook his head in mild disgust and said something on the order of: "It's nice of you to say that, but what about Pres? What about Hawk?" Now we all know that Sonny Rollins is too smart to ever do The Stupid List and one of the reasons is because leaving off someone like Lester Young would just be too stupid for him to comprehend. Which is why, in doing this exercise, I am very pleased with myself that I came up with the headline and title of The Stupid List, and I am equally pleased that all of you who are doing it also agree on the stupidity of it.
Watching the Pres and Teddy record caused me to put this record in my queue as well: The Creative Teddy Wilson, Norgran 1019. This is an original yellow label pressing with a David Stone Martin cover. It is listed in M- condition for both the record and the cover. The seller has a start price of about $150 and there are no bids. It's hard to imagine that there will be any bids in that price range, despite the cover and the originality of the pressing. Again, time marches on and the people who would have known of Teddy Wilson in his prime are gone and tastes have changed. Perhaps if these records were recorded on Blue Note there would be more interest, but I don't think that's the real issue: We don't see much demand for the Sidney Bechet or Art Hodes Blue Note records either.