Later Pressings and Rising Prices: Merry Christmas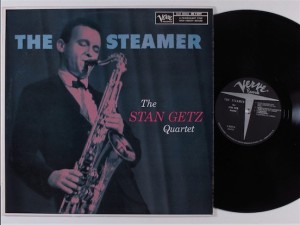 CeeDee sent a note last week with a few links, including the Red Garland Manteca we mentioned the other day. Another one from the list: Stan Getz, The Steamer, Verve 8294. This also came from the Herb Wong collection. I love this record, but this was a second pressing with the MGM logo. It was in VG++ condition for the record and VG+ for the cover. It sold for $97. An aberration or a shift in the market? Seed's comment was that it "looks like even the more commonly seen LPs can bring in a haul these days." That's true to an extent, although it's hard to say that even the MGM presses are commonly seen. We'll keep an eye on this trend. I saved a lot of the MGM pressings from the Irving Kalus collection. I grew my collection on these pressings, almost all purchased from my late friend Red Carraro, who had boxes and boxes in his basement for many years. No doubt, Irving purchased them from the same place.
Another one from CeeDee's email, and also from Funkyousounds: Booker Ervin, Groovin' High, Prestige 7417. This was an original stereo pressing with the blue labels. It's a later Prestige, but it seems to be gaining value with the passage of time. This copy sold for $202.49. No complaints from me, since I have the album and I also enjoy it very much. Booker was definitely one of the most underrated of the tenor players. His style was very recognizable and he always played with great passion and creativity.