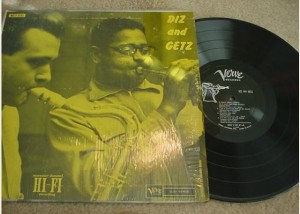 When I was buying and selling regularly on eBay a few years ago I would monitor the listings religiously. Every day I would go through all of the listings, one by one, page by page, and I pretty much never missed a thing. These days, I'm more likely to do occasional searches and focus on items I'm most interested in. Last night I had some time, so I went through my old routine of listing by listing, page by page. Here's some of the jazz vinyl I watched.
Dizzy Gillespie and Stan Getz, Diz and Getz, Verve 8141. This was an original pressing with the trumpeter logo. The record was in M- condition and the cover was VG+, although it seemed to have original shrink wrap. The start price was $29.95. There were no bidders. Really? When I started collecting this would have been a nice commodity, hard to find, great artists, great collectible label. And it's got quite a nice cover to boot. Now it's not worth thirty bucks? Wow. How about Stan Getz and Chet Baker, Stan Meets Chet, Verve 8263. This one says "trumpet logo" in the headline, but there's no picture of the label so I actually have to wonder if it is original. The record was listed in VG++ condition, close to M-, and the cover was VG+. The price was $57.
Sal Salvador, Frivolous Sal, Bethlehem 59. This was an original pressing in VG+ condition for both the record and the cover. It sold for $75 and, frankly, I didn't think it would get that much. Is there really still interest in Sal Salvador? Probably not. But there is interest, deservedly so, for Eddie Costa, and he's a sideman on this LP. I would think Costa's presence is the bigger interest here.
Oliver Nelson, The Blues and the Abstract Truth, Impulse A-5. Interesting that the seller listed it as a Bill Evans album. I guess there's some logic, if you don't really know the album. Evans is listed first on the cover. It's not alphabetical — it looks like a graphic decision: The names are listed in ascending order in size, smallest to largest, so they stack like a pyramid. Anyway, this was VG+ for the record and cover and it sold for $140.50.
I didn't realize this was a $200 record: Dorothy Ashby, Afro-Harping, Cadet 809. This was still sealed, had 12 bids and sold for $200 on the nose. Can't recall that I've ever seen a Cadet record get that kind of price. Do collectors really want/value this record so much more than Diz and Getz? Guess so. Never been that big a fan of the jazz harp myself.
Tags: Bethlehem Records, Bill Evans, Cadet Records, Chet Baker, Dizzy Gillespie, Dorothy Ashby, Oliver Nelson, Sal Salvador, Stan Getz