Three For The Road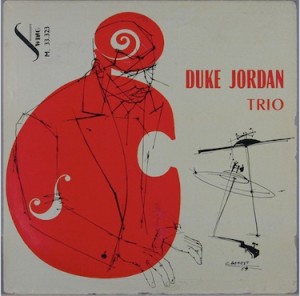 This may be my last post for a couple of weeks. Taking holiday in Italy with The Lovely Mrs. JC. I still may do a post from there, you never know. In the meantime, Clifford has the keys to the kingdom until I return, and I do have a bunch of records I'm watching on eBay, starting with this one, which has already been mentioned by one of the commenters on the previous post: Duke Jordan Trio, Swing 32 323. This is an original 10-inch French pressing and it looks to be in M- condition all the way around, cover and vinyl. The bidding is now at about $1,000 and, as recently as last week we saw another copy sell for nearly $3,000. There are three days left on this auction, so there's every chance this copy will approach or surpass that one. As you can see, it has a very Stone Martin-esque cover? Anyone familiar with the artist and his other work? Rudolf?
This one surprises me:
Paul Chambers, A Jazz Delegation from the East, Score 4033. This is a red label pressing, probably from 1958, and it features a young John Coltrane, among others. The record is listed in Ex condition and the cover as Ex- or Ex. There is one bid at $400. My problem with this one is that it's not an original pressing. The original pressing was on Jazz West and this is on Score. I don't know what relationship there was between the labels, and if Score was even a legitimate label, but I know that if I were to own a copy of this record at $400 or more it would be the Jazz West version and not the Score. Unfortunately, the one I actually do own is the Score. You can't have everything.
How about this one: Sonny Rollins on Impulse, Impulse 91. This looks to be an original stereo pressing with the orange label. It is signed by Sonny and, having other Rollins autographs, I can pretty much vow that this is authentic. Maybe Don Lucky can also weigh in. The seller doesn't give much detail on the condition, other than to say it is excellent, and it certainly looks so from the pictures. The starting bid is at $300 and there is no action yet. I imagine Rollins autographs are not all that rare, seeing as how he is relatively accessible, but I will leave it to Don Lucky and others to take my imagination out of it and put in a dose of reality.