Top Dollar (or Euro) For European Pressings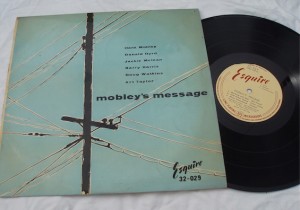 Catching up on some loose ends, Terry sent me a link to the following record: Duke Jordan Trio, Vogue Swing M33 323. This was the original French pressing of this 10-inch LP, which was listed in M- condition for the record and Ex for the cover. It sold for $2,939.99. As Terry said in his email to me, the prices of the French Swing records are getting top dollar and this would certainly support that, unless anyone thinks nearly $3,000 is a bargain for a Duke Jordan record.
While we're in Europe: Hank Mobley, Mobley's Message, Esquire 32-029. This is the original British pressing of the Prestige record. It was listed in Ex condition for the record and only VG for the cover. It sold for $337.44. I've been watching a lot of these U.K. pressings and they seem to be going up in value, particularly the early Prestiges. I can see why: The covers are cool and the pressings sound great. If I didn't have an original Prestige — and in some case, even if I do — I'd be very happy to have one of these original Esquires.
Here's another one:
Sonny Rollins, Worktime Esquire 32-038. This was also an original U.K. pressing. The seller didn't really grade the record, which seemed to negatively impact the final price (as it should). If I were to guess I'd say the record and cover were in at least VG+ condition and possibly VG+. The final price was $224.27.