A Day For Rare Blue Notes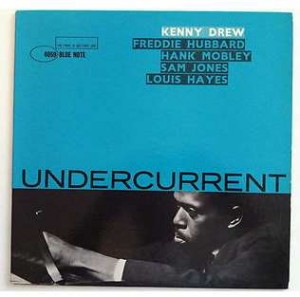 Here are a few rare jazz records we're watching this week on eBay. Today's version will focus on Blue Notes, starting with: Kenny Drew, Undercurrent, Blue Note 4059. This has the West 63rd address but no deep grooves. This one is always confusing and I don't have the Fred Cohen book in front of me. It's an original with either one side DG or no sides DG, right? Anyway, this one is in excellent minus condition, which is, what, VG+ in our terms. The price is nearly $300 and there are still four days to go.
Wayne Shorter, JuJu, Blue Note 4182. This looks like an original mono pressing with the New York USA address, as well as the ear and Van Gelder in the dead wax. The record is listed in VG+ condition and the cover is VG++. The record closes within a day and so far there are no bidders at a $189 start price.
Here's a 10-inch Blue Note with a very cool insert:
Miles Davis Volume 2, Blue Note 5002. This is an original pressing. The record is listed in VG++ condition and the cover in VG+ condition. There are already 11 bids and the pricing has topped $250. As for the insert: It is called The Blue Note Story and it is quite awesome and it is something we've written about before, so you can just click on the link.
Finally we go with one destined for the $1,000 bin, or the $2,000 bin or perhaps even the $3,000 bin: Jutta Hipp with Zoot Sims, Blue Note 1530. This is an original Lexington Avenue pressing. The record is listed in M- condition and the cover is VG+. The price is $1,625 with more than a day left.