The Blue Note Story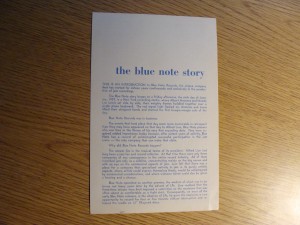 So the other day I was reorganizing my records, which I do every couple of months, and I took out an old Sidney Bechet record on Blue Note and inside the sleeve found this great little pamphlet, called The Blue Note Story. It's a four-pager on a coated paper and it clearly dates from 1955 — it talks about Blue Note starting in 1939 — 16 years ago. It is written by Leonard Feather and measures 8-1/2 inches high by 5-1/2 inches wide, which is basically a standard 8-1/2-by-11 sheet folded in half. I will post the entire contents of this pamphlet momentarily. How this rates as I collectible, I have no idea. I do know that, in my view, it's a helluva a lot more interesting than the Bechet record. I must have three or four dozen Lexington Avenue Blue Notes in my collection — including 10-inch and 12-inch LPs — and I've never found this pamphlet in any of the others.
So here's what it says:
the blue note story
THIS IS AN INTRODUCTION to Blue Note Records, the unique company that has worked for sixteen years continuously and exclusively in the production of jazz recordings.
The Blue Note story began on a Friday afternoon, the sixth day of January, 1939, in a New York recording studio, where Albert Ammons and Meade Lux Lewis sat side by side, their weighty frames huddled together over a single piano keyboard. The red signal light flashed on, Ammons and Lewis lifed their eloquent hands and started the first boogie-woogie solo of the day.
Blue Note Records was in business.
The events that took place that day seem more memorable in retrospect than they may have appeared on that day to Alfred Lion, Blue Note pioneer who was then in the throes of his very first recording date. They have acquired added importance today because, after sixteen years of activity, Blue Note has a record of uninterrupted successful participation in the jazz scene — the only company that can make that claim.
Why did Blue Note Records happen?
The answer lies in the musical tastes of its president. Alfred Lion had long been a jazz fan and record collector. At that time there were only three companies of any consequence in the entire record industry. All of them recorded jazz only as a sideline, concentrating mainly on the big names and with an eye on the commercial aspects of jazz. Lion felt that there was a place for a company that specialized entirely in jazz in its purely artistic aspects, where artists could express themselves freely, would be unhampered by commercial considerations, and where unknown talent could also be given a hearing and a chance.
Blue Note operated on another premise, the wisdom of which was to be borne out many years later by the advent of LPs. Lion realized that the three-minute time limit imposed a restriction on the musicians that was often about as comfortable as a tight shirt. Consequently, on most of the early Blue Note releases, in the absence of LPs, he gave the musicians a rare opportunity to record for four or five minutes without interruption and released the results on 12″ 78-speed discs.
Blue Note's first year showed that the policy of catering to one's own ideas of good taste could find public acceptance. When Sidney Bechet came to Lion to tell him that a major company had refused to let him record Summertime, on the grounds that this tune would not be commercial in the hands of a jazz performer, Lion listened sympathetically. Sidney cut Summertime for Blue Note and the result was the company's first hit.
By the time 1939 came to a close Lion had a modest but promising catalogue. He was aided now by the cooperation of Francis Wolff, the talented photographer and art director who shared his love of jazz and his eclectic ideas. As the early years rolled by an impressive roster of sessions took place. Many of them featured Sidney Bechet, who was recorded in a wide variety of settings. On one date he was featured with the late Bunk Johnson; on others with Art Hodes, Wild Bill Davison, Max Kaminsky, Sidney de Paris, Vic Dickenson, J. C. Higgenbotham, guitarist Teddy Bunn, the late Frank Newton and the late Sidney Catlett.
Edmond Hall, the great New Orleans clarinetist, was another prominent personality in Blue Note's early years. Never heard as a leader before Lion launched him in this role, he first headed a session that featured Meade Lux Lewis on celeste, Israel Crosby on bass and the late Charlie Christian on guitar (in his only non-amplified solos on record). Profoundly Blue, one of the greatest blues performances of its kind ever recorded, was one of the products of this date. It was issued on BLP 5001 and an alternate master was included on BLP 5026. On another all start session Hall used Teddy Wilson, Red Norvo, guitarist Carl Kress and bassist Johnny Williams. Some of the products of this date were also reissued on 5026.
The course of jazz through those years can be traced in the interesting musical patterns of those sessions, starting with the dates under the leadership of Bechet (BLP 7001, 7002, 7002, 7008, 7009, 7014, etc.), Hodes (7004, 7005, 7006, 7015), and Sidney de Paris (7007, 7016) and the sessions made by James P. Johnson. The great James P. was among the pianists who made 12″ solos of their own compositions, in addition to taking part in band sessions. Then there was the veteran clarinetist George Lewis, whose first records with his New Orleans band of 1943 were re-issued on BLP 7010 and 7013, and whom Blue Note brought back with almost the identical band in 1955 on BLP 7027 and 7028.
With the gradual shift in emphasis from New Orleans or Dixieland jazz to swing music in the mid-1940s, Lion added to the catalogue the names of such distinguished Ellingtonians as Jimmy Hamilton, Barney Bigard, Ben Webster and Harry Carney, as well as other gifted swing men including Ike Quebec, Buck Clayton, Tiny Grimes, Benny Morton, Milton Hinton and J. C. Heard.
Most of these names can be found on Mellow The Mood (5001) and Swing Hi Swing Lo (5027), two of the most variegated items in the entire catalogue.
The new era in the Blue Note annals was started when the advent of bop, and of the unique musicians who helped create it, provided the opportunity for new and unprecedented experimentation on Lion's part. Thelonious Monk, acknowledged among musicians as one of the founding fathers of the new movement, but rarely accorded the acclaim he deserved among fans and record buyers, became a Blue Note protege and recorded his first sessions under his own name for the ever-enterprising label. The results may be heard in "Thelonious Monk — Genius of Modern Music", on BLP 5002 and 5009, which featured, along with Monk, such early and brilliant bop creators as Milt Jackson, Idresse Sulieman, Sahib Shehab, Gene Ramey, Al McKibbon, Art Blakey, Kenny Dorham, Lou Donaldson and Max Roach.
Fats Navarro, too, was indebted to Blue Note's faith in him for much of his recognition during the last years of his life; the memorial album on 5004 consisted of reissues, in LP form, of some items under the leadership of Tadd Dameron, others under Bud Powell, and featuring Howard McGhee, Wardell Gray, Sonny Rollins, Curly Russell, Kenny Clarke, Charlie Rouse, and Roy Haynes.
During the next few years the initiative and resourcefulness of Blue Note was responsible for the discovery and dissemination of an astonishing number of modern keyboard talents. Monk was the first in a long line; Bud Powell, to whom almost every young pianist now pays homage as the improvising genius of bop piano, made his greatest recordings in a fabulous series of sessions for this label, and there are many who will contend that Bud has never recorded a more brilliant performance than Un Polo Loco, one of the highlights of "The Amazing Bud Powell" on 5003. A more recent Powell LP is 5041.
Powell was followed by Horace Silver, who was virtually unknown when his first LP (5018) launched the "New Faces — New Sounds" series a couple of years ago. Today, with numerous LPs on Blue Note (5034, 5058, 5062) both as a leader and sideman, Silver had a Down Beat critics' poll award to his credit and is generally considered to rank with Monk and Powell among the handful of definitive piano stylists on the contemporary scene. Other new faces, whose owners' hands produced new sounds from the keyboard, were Kenny Drew on 5023, Wynton Kelly on 5025, Elmo Hope on 5029 and 5044, Wade Legge on 5031 and George Wallington on 5045.
Of special interest is a series of recordings by Errol Garner: Overture to Dawn (5007,5008, 5014, 5015, 5016). These LPs, Garner's very first recordings, show facets of his style that are rarely heard nowadays and have a greater variety and continuity of mood, a truer ring of artistry, than almost any of the commercial recorded sides of later years.
Blue Note's latest piano discovery is the remarkable Herbie Nichols (5068, 5069), whom some critics have called the most important new find since Monk.
The Afro-Cuban trend was anticipated by Blue Note when the late and immortal Chano Pozo, one of the most amazing percussion artists of modern times, took part in a session with James Moody and his Modernists on 5006. The gifted "Gil" Fuller was responsible for the arrangements.
Among the many other major talents who were featured by Blue Note years ago and are now internationally known, there are Howard McGhee (BLP 5012, 5024), Milt Jackson (BLP 5011), Miles Davis (BLP 5013, 5022, 5040), Jay Jay Johnson (BP 5028, 5057, 5070, and bassists Oscar Pettiford and Percy Heath.
Taking cognizance of the ever more important role played by the electric guitar in modern jazz, Lion allotted individual LP sessions to many gifted guitarists, among them Tal Farlow (5042), Sal Salvador (5035) and Lou Mecca (5067).
The international aspects of the jazz horizon were not neglected by Blue Note. In addition to releasing some of the outstanding sides cut in Paris by Dizzy Gillespie (5017), Lionel Hampton (5046) and James Moody (5005), he presented some of the finest overseas jazzmen in the British-and-Swedish coupling entitled New Sounds From The Old World, on 5019, and followed it up with The Cool Britons on 5052. Jutta Hipp, the first German jazz star ever to earn American attention, owes her new-found fame to her arrival as a "New Face" with a new sound on 5056 (with more to come). Belgium was well represented with a session by the swinging "Fats" Sadi Combo on 5061. Then there is the great Sidney Bechet, who is presented on four exciting Concert LPs recorded in Paris (7024, 7025, 7029, 7020).
As soon as west coast jazz became a topic of conversation in jazz circles, Blue Note decided that the "Best From the West" belonged in its catalogue. This writer was charged with the job of assembling some of the leading jazzmen in Los Angeles for a series of sessions. The results were released in the spring of 1955 on 5059 and 5060.
The idea of recording a series of LPs at the world's most famous jazz night club resulted in the precedent-setting A Night At Birdland on 5037, 5038, 5039. The leader on this occasion was the superlative drummer Art Blakey, a special Blue Note favorite ever since the earliest Monk days. Featured with him were Clifford Brown, Lou Donaldson, Horace Silver and Curly Russell.
This was a comparatively recent undertaking, but it was by no means the latest of last of Blue Note "firsts". As young, fresh talents emerge on the scene, the label is quick to observe their possibilities and offer them an opportunity for free expression in the long-established Blue Note tradition that offers the musicians all the facilities to prepare their sessions carefully, while affording them time to relax and work completely at ease during the recording. Clifford Brown is a typical example of a new star who was spotted and spotlighted under this procedure. (He teamed with Lou Donaldson on his very first recording session, BLP 5030; then with Jay Jay Johnson on BLP 5028. Under his own leadership he can be hard on BLP 5032 and 5047, besides being featured with Gigi Gryce on BLP 5048, 5049, 5050 and 5051.) Other gifted musicians were Lou Donaldson 5021, 5030, 5055; Frank Foster 5043; Hank Mobley 5066; Julius Watkins 5053, 5064; and Gil Melle with a series of LPs — 5020, 5033, 5054, 5063.
In all its efforts down through the years, one element has been continuously present in all of Blue Note's presentations: quality. It is doubtful whether any other company, major or minor, can truthfully claim to have taken as much endless care of every single detail on every recording. From the moment the session is conceived until the day the record reaches the stores, this painstaking attention to quality is present every step of the way — in the material used for the pressings, in the excellence of the recording, in the design and production of the covers, and in everything else that goes to make a finished, thoughtfully prepared product.
After sixteen years marked by accomplishments of this nature, and by the successful discovery of so much significant talent, Blue Note Records may well be proud of the contribution it has made in the field of jazz.
— LEONARD FEATHER
For complete Free Catalog write to:
BLUE NOTE RECORDS
767 Lexington Avenue, New York 21, N.Y.