A Diversion Into the World of 78s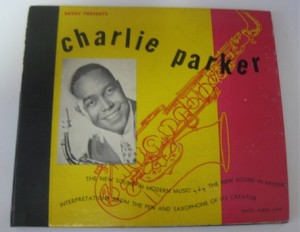 My eBay watch list is overflowing and there are some interesting items we don't often see here, including some 78-RPM records. Let's start with Charlie Parker, The New Sounds in Modern Music, Savoy 510. This is a boxed set of Charlie Parker 78s. Unfortunately, the seller doesn't say which ones, although if I were interested (as I may be) I would at least attempt to pose the question. The records — can't call them vinyl — are in VG+ condition and the cover is probably VG or VG+, depending upon the condition. I am probably one of the few among us who still collects 78s. I've had the good fortune to run into a few inexpensive collections, and then I was very fortunate with the 78s I purchased in the infamous Baltimore collection. I probably have about 1,000 78s, with probably about 40 Parkers on Savoy, Dial and Mercury, but a Bird Savoy boxed set would make a nice addition to the collection. There is a big concern with buying 78s on eBay, because
they really don't ship well. I know this first-hand from having sold 78s and doing everything right to ship them carefully, with the right packaging and all. And I've still had breakage. This one is sitting at about $35 with a few hours to go. I may be tempted.
Here's a Blue Note 78 that is getting some surprisingly heavy action: Thelonious Monk, Straight No Chaser/Four in One, Blue Note 1589. This is listed in VG+ condition. There are five bidders and 15 bids and the price is already up to $60. Fortunately, this is one that I own.
A couple more while we're on the subject: Charlie Parker and Leo Parker, The Parkers, Savoy 509. This is a three-record boxed set with 78s by both of the Parkers. It looks to be in very nice condition and the cover alone makes it quite enticing. The price is less so — starting at about $100. So far there are no bidders. New Sounds in Modern Music, Savoy 508. This is a four-record set of 78s including a potpourri of boppers, including Bird, Fats Navarro, Sonny Stitt, Tadd Dameron and, of course, the famous Izzy Goldberg (need I reveal the real identity of "Izzy?). This one also looks to be in nice shape, but it also carries a hefty start price of about $125. Alas, there are no bidders for this either. It closes later today.
BTW, for those who may be curious, I do listen to my 78s. I have an old Califone record player that they used to use in the public schools. It works great and the sound is just fine. I was able to pick one up pretty inexpensively on eBay and a quick glance tells me there are still many for sale. If you get the 78 itch, that's an easy way to scratch it. For me, there's something still thrilling about putting on a Bird 78, or Billie Holiday, or Louis Jordan, and listening to the sound as it was originally meant to be heard. If you do get the itch, you'll never be the same.