The Complete Jazz Collector Bruce M. West Collection
I decided to put together the entire 7-part series on the Baltimore collection in one file, so that anyone searching for it can read it all at once. I've also created a PDF of the series (Baltimore Complete) if anyone wants to print it and save it for any reason. Enjoy.
The Complete Jazz Collector Bruce M. West Collection, By Al Perlman, Founder/Publisher Jazz Collector
On Thursday, Nov. 14, 2013, I received the following e-mail:
"Hello Al,
When our father passed away, my siblings and I inherited our Uncle Bruce's jazz record collection. It's roughly 1,000 records and spans from the mid '50s to the mid '70s. Apparently our uncle was a serious collector, the rumor is that we only got part of the collection. However, the part we have isn't bad from what I can tell, because it includes the following Artists/Titles that currently appear in articles on your site: John Coltrane/Blue Train; John Coltrane/Soultrane; Wynton Kelly/Kelly at Midnight; Hank Mobley/Mobley's 2nd Message; Sonny Rollins/Saxophone Colossus.
We are selling the entire collection. Please let me know if you're interested or have any suggestions about the best/most efficient way to reach the target audience.
Best regards,
Rob (Baltimore, MD)"
I was, of course, intrigued. Intrigued, but somewhat skeptical as well. I get notes quite often from people looking for advice on how to sell their collections, but typically the records are not necessarily of the collectible era (lots of swing era stuff), or they have been picked through by dealers, or they have been stored in a musky basement and are smelly and moldy. So I've learned to not get excited by notes such as this. But I was intrigued, and I am always happy to help and to potentially find a nice home for a collection that someone obviously cherished. And, if that home happens to be mine, then so much the better.
So I wrote back to Rob the next day as follows:
"Hey Rob. Thanks for reaching out. I'd be interested. Do you have a list of the records? Are they in good condition? Any sense of how much you are looking to get for the whole collection? Are the records in Baltimore? If it turns out that the collection won't work for me, I'd be happy to give you advice on what to do with it. With jazz records, the devil is definitely in the details. The original pressing of Blue Train or Saxophone Colossus can be worth a lot of money, but it it's not an original the value diminishes significantly."
The next day, Saturday, Nov. 16, Rob wrote back:
"Thanks for responding, Al. Yes, I do have a "working" list. It's not finalized yet, but it's pretty close. For the most part, I'd say the records are in excellent condition. The only thing that may prove to be an issue is my uncle's decision to write the purchase date on the back in the upper left hand corner of many of the albums. The records are here in Baltimore.
I've attached a copy of the current record list along with pictures of the previously mentioned albums. Please let me know your thoughts or if you have any other questions.
Much appreciated,
Rob"
I looked at the pictures first. There were blurry pictures of Soultrane, Blue Train, Mobley's Second Message, Saxophone Colossus and Kelly at Midnight. Here's a sample: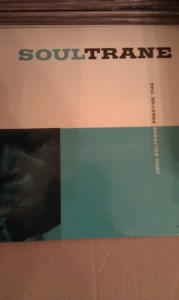 Then I opened the Excel file with the listing of the records. The first 16 records listed on the spreadsheet were 101 Strings. Ugh, I thought. What's that? Then I came upon the first of the jazz records, two by Pepper Adams, Critics Choice on World Pacific and Pepper Adams Quintet on Mode. Then came the Adderleys, pretty much all of the Riversides and, boom, the first Blue Note, Something Else. Okay, we have possibilities. The next one that caught my eye was Toshiko Akiyoshi on Storyville. Hmm, that's a rare one that I've never owned. Then a bunch of various artists' records, a whole lot of Count Basie, a Burt Bacharach, a bunch of Tony Bennetts, and my adrenaline was starting to fade. Then came Clifford Brown, Kenny Burrell, Donald Byrd, Paul Chambers, John Coltrane and Miles Davis, and the list kept getting better and better.
This was a small but fairly formidable collection—if, of course, the records were original pressings and if they were in nice condition.
There was only one way to find out. It was time to talk to Rob. I sent him a follow up note and we agreed to chat the next morning, Sunday, Nov. 17, at 10:30 a.m.
Chapter 2
I had thought I was finished buying collections. I had gotten so much joy out of buying the Irving Kalus collection last year, I thought nothing else would compare. It was such a nice collection I didn't think I'd ever be able to top it, so why try? I had barely bought any records at all in more than 18 months. I had passed on every inquiry coming in to Jazz Collector. I was happy and content with the collection I had amassed during the past 40-plus years of being a jazz collector. I am not a dealer, I am a collector, proudly so, and I have no aspirations to be a dealer. My site is Jazz Collector, not Jazz Seller.  It's been about three years since I even sold a record on eBay. So what would I do with even more records?
So here I was with this list of records sitting in front of me. And it was an odd list. There were about 1,000 records. Many were of no interest at all. Classical records, records from 101 Strings, dozens of Sinatra records I already own, a lot of vocals I already own and, to top it off, about two dozen boxed sets of classical records, such as An Evening with Concertgebouw Orchestra, Amsterdam, and An Evening with the Bavarian Radio Symphony Orchestra. Somehow, driving down to Baltimore and coming home with An Evening with Concertgebouw Orchestra, Amsterdam, did not seem like a wise use of my time or money.
Yet, there was the rest of the list. A few hundred jazz records, many of no particular repute: Dozens of Oscar Petersons, a gaggle of Errol Garners, a slew of Herbie Manns. But then:
Tommy Flanagan Overseas
Jutta Hipp With Zoot Sims
Jutta Hipp at the Hickory House
Elmo Hope, Informal Jazz
The Return of Art Pepper
Hank Mobley, Mobley's Second Message
Kenny Dorham and the Jazz Prophets
All very rare and valuable. What's more—all records I have never owned. Then two particular records caught my eye:
Jackie McLean, Jackie's Pal
Lou Donaldson, Wailing With Lou
Careful readers of JazzCollector.com will know my history with these two records. Many years ago I had bought my friend Dan's collection and these records were among the prime pieces, both in sterling, mint, pristine collection. And in a moment surely sparked by temporary insanity, I sold them both. To buy a boat. The boat sank. I was never able to replace either record, short of paying the going rate on eBay, which would have broken my heart. So every time I looked at my collection over the past 23 years and sorted through the McLeans and Donaldsons, I would see these gaps where Jackie's Pal and Wailing With Lou once sat proudly on my shelves.
Then I noticed a separate file on the spreadsheet that Rob in Baltimore had labeled "micros." I didn't know what this was. I opened the file. The first record on the list was Miles Davis, Young Man With a Horn. A 10-inch Blue Note. A few records down: Miles Davis With Sonny Rollins, Prestige 187. A 10-inch Prestige. I kept looking. More Blue Notes: All three Blakey's at Birdland, Here Comes Frank Foster and then:
Lou Donaldson, New Faces New Sounds
Clifford Brown, New Star on the Horizon
Bam! Two more records I had bought from Dan and then sold to buy the boat. Two more yawning gaps in my collection. Two more reasons to buy this collection in Baltimore.
The die was cast. My interest was piqued. I would love to have these records. But were they in good condition, were the all originals, was the price reasonable? All questions I would have to pose to Rob. And I was scheduled to speak to him at 10:30 on Sunday morning, November 17, 2013.
But before I could speak to Rob, I had to speak to two other people first.
Chapter 3
Before I could call Rob and talk about the records, I needed to have two other conversations. The first was with Dan. Dan and I have been friends since first grade and we got into collecting jazz records at around the same time. Dan was always much more aggressive and adept than me at finding great records and he amassed a great collection, which, at some point nearly 30 years ago, ended up in my hands. We have always shared our hunts and scores and so I called Dan to tell him about the collection in Baltimore. He heard some of the titles and basically said: "You should have those records."
Next up? The Lovely Mrs. JC, of course. I told her that there was an interesting collection that someone had sent me on email. She saw the familiar gleam in my eye.
"Where is it?"
"Baltimore."
"How much?"
"I don't know."
"Is it really good?"
"I don't know. I haven't spoken to the guy yet."
"Well, I trust you. Do whatever you need to do."
Doesn't get any better than that, does it? The Lovely Mrs. JC gets my vote for the Wife Hall of Fame.
I was ready to have the conversation with Rob. In a situation such as this, I want to assess whether the records are originals, whether they are in good condition, whether the seller wants to sell them all at once, and whether his/her expectations for price are reasonable. I don't want to overpay for the records. I want to pay a fair price and be honest with the seller without necessarily sharing every bit of knowledge I've accumulated over the past 43 years of jazz collecting. Beyond that, I'd rather not talk about price in this forum, since it's really between the seller and me. Suffice to say, I believe I pay top dollar for any collection I buy, and certainly more than the prices I've seen from dealers.
At 10:30 on Sunday morning November 17 I placed the call to Rob in Baltimore. We chatted for a while, about boxing and football and fantasy football, which is another obsession of mine. I got the sense he was a very nice guy. After a few minutes I asked him to tell me about the records. This is what he told me:
The records were owned by his uncle Bruce, his sister's brother. Uncle Bruce died sometime in the mid-1970s and Rob's parents ended up with the records. The records basically were sitting in the basement of his parents' home untouched for nearly 40 years. When Rob's father passed away last year, Rob ended up with the records. He had them in storage for a while, then he had them just sitting in his apartment. It was a lot of records, more than 20 boxes, and Rob just didn't want to move them anymore, so he wanted to get rid of the lot. He and his brother had started compiling a list of the records, which was the list he had sent me, but it proved to be a more complicated and time-consuming process than they had anticipated and they were hoping to find someone who would take the whole collection and pay a fair price for it.
Uncle Bruce, Rob continued, was supposed to be a very serious collector. There was talk that his collection was one of the finest anywhere and that at some point a local paper had written an article about Uncle Bruce and the collection, but no one was able to locate the article. There was also speculation that after Uncle Bruce died a friend of his named Horace had gotten hold of the collection and taken out some of the choicest of the choice records, so perhaps the collection in Rob's apartment was not all it could have been, but Rob could tell just from a quick perusal of Jazz Collector that there were certainly some records of value still in the boxes.
I told Rob that based on the list he had sent to me, it seemed, indeed, that there were records of value, depending upon their condition and whether they were original pressings. Rob said that Uncle Bruce seemed to be a stickler about the condition of his records, and most of the records seemed to be unplayed. He also said many were in plastic sleeves, particularly the titles that he had seen on Jazz Collector. He said the one potential problem was that Uncle Bruce had written in ink the date when he purchased the records on the back covers. This distinct mark was on most of the records.
I got the sense that the records were in good condition and I also had the sense that many were probably original pressings, based on when Uncle Bruce had died and when he had been collecting. But, before offering a price and planning a trip to Baltimore, I needed some more information. I asked Rob to try to find one record on the Prestige label and one on the Blue Note label.
The first one he picked was Herbie Mann, Flute Souffle. I asked him to look at the record's label. What color? Yellow and black. What's the address? 446 W. 50th St., N.Y.C. Good, I said. It's an original pressing. It's not a very valuable record, but it's an original. That's a good sign. Now a Blue Note. Rob said he found one in the same box with a very nice cover. What was it? Jutta Hipp with Zoot Sims. Good, I said. What's the address on the label? 161 Lexington Avenue.
That was all the information I needed. I told Rob I would be interested in buying the collection and would be willing to drive down to Baltimore to pick it up, all of the records, including the classical box sets, so Rob wouldn't have to worry about getting rid of them, I'd just pile them all in my car and take them off his hands. I told him I couldn't set an exact price until I had actually seen the records, seen the condition, made sure the ones I wanted were original pressings, made sure they weren't moldy from sitting in a basement, etc. I told him if the records were originals and were in the condition he had described I would pay him within a certain range for the entire lot. After a bit of discussion we agreed on a price range. I reminded him that he could get more money by cherry picking the best records and selling them on eBay, but he wanted to get rid of the entire collection, wanted to sell someone who would appreciate it, and realized that the price I had offered was much higher than what he could get from a dealer.
So, I asked, do we have a deal? Yes, he answered, we have a deal. When, he asked, do you want to pick up the records?
I had a crazy week before me. I was traveling to Boston for business on Tuesday and then working the WFMU Record Fair in New York the following Friday and Saturday. I also knew I would have to borrow a bigger car to haul all of the records. The earliest it seemed feasible for me to get a car and drive down to Baltimore was the following Sunday. I suggested that to Rob. Fine, he said. So we set a date. On Sunday, Nov. 24, I was set to drive down from New York City to Baltimore to pick up a collection of about 1,000 records, including Jutta Hipp With Zoot Sims, Flute Souffle, Jackie's Pal, Wailing With Lou and, of course, an Evening with Concertgeouw Orchestra, Amsterdam, and An Evening with the Bavarian Radio Symphony Orchestra.
Chapter 4
I was all set to drive down to Baltimore on Sunday, Nov. 24, 2013. But there were a few problems. First, I couldn't sleep. My mind could not shut down from thinking about the records. Were they originals? Would they be in good condition?  Was I paying too much? How would I pay for them? Did I want to carry all that cash to Baltimore? Which car would I use to get them? Would it be big enough? What if it wasn't? Would I need to bring boxes for the records? Where would I put the records when I got home? How would I sort them out? How would I get them into the car if the car were already filled with records from the WFMU Record Fair? These were just a few of the thousands of questions swirling inside my brain.
So one problem was the lack of sleep. Then there was the idea that if I were somehow able to get the records before Friday, I could bring some of them to the WFMU Record Fair and recoup some of my investment immediately. The Lovely Mrs. JC was a strong proponent of this idea. Wisely, she has always been the one managing money in our household. If it had been me in charge, we would likely have 30,000 records, and not just a mere 10,000 records. And we'd be broke.
But I still needed a car to carry the records. Fortunately my niece has a Toyota Highlander, which I had used previously to haul about 1,500 records. I arranged to pick that up on Tuesday, so I had the option of going down before Friday if I wanted. Wednesday was out of the question because I had work projects to complete, but Thursday was a possibility. I reached out to Rob in Baltimore. Thursday during the day wasn't great for him. I wrote back: What about the evening? Sure, he said, anytime after 6:30 p.m. If I were to drive down and arrive at 6:30 p.m. and spend two hours looking at the records and loading them, then drive back to New York, I could expect to be back home in the range of midnight on the early side and 1 a.m. on the late side. But I'd have so much adrenaline flowing I probably wouldn't even notice the drive. Besides, I wasn't sleeping anyway, so getting home late, with the records in hand, was probably better for my health than simply staying home and obsessing about the records. So I sent Rob back a note saying that I would be there around 6:30 in the evening on Thursday. Fine, he wrote back. He was looking forward to it.
After another sleepless night on Wednesday, Thursday was finally at hand. At about 2 p.m. I put the leash on my dog Marty and got into the car and headed to the Lincoln Tunnel for the trek to Baltimore, which I figured to be at least 4 hours during rush hour. You may remember Marty as my good luck charm from when I bought the Irving Kalus collection. No way was Marty staying behind. The trip to Baltimore was uneventful. I was able to grab a bite along the way and still arrive at Rob's place at about 6:15. I called him up to tell him I was there and he said to meet him in the back. It was a small apartment/office building. I pulled up to the back and met Rob there. We went down a short corridor and up a couple of small flights of stairs. Not the best for hauling boxes of heavy records, but there was nothing we could do about that. Once I got to the apartment, I put Marty in his crate and took a look around.
The records were in brown boxes from Home Depot, the kind you might use if you were moving books. They weren't all that sturdy and I was glad that I had brought five sturdy record boxes from home. I had counted about 200 collectible records from the list that Rob had sent me. My plan was to isolate the collectible records, put those in my boxes and bring them back up to the apartment when I got back to New York. I would leave the rest of the records in the car for a few days until I was able to drive them up to the house in The Berkshires, where there would be enough room to unload them and sort through them. I was going to use a separate car completely to haul records to and from the WFMU Record Fair.
I looked at all of the boxes on the floor. It looked like a lot more records than I had seen on the list. I could see immediately why Rob wanted to get rid of all of these boxes at one time. I could also see that they wouldn't easily fit in the car. Before I even began looking at the records, I asked Rob if it would be OK if I didn't take the classical boxes with me. I told him that I would just donate them to Goodwill anyway, so if he could do that, it would be very helpful. Sure, he said. No problem. The classical boxes were taken care of.
Oh, yes, Rob said, there were also these three other boxes. Boxes he had forgotten about and hadn't included on this list. He wasn't even sure what they contained. I opened the top of one of the boxes. I saw two things: A broken 78 and an intact 78. Both were on the Prestige label. I looked further into the boxes. More 78s, more Prestiges, all intact, none broken.  I asked Rob if it would be OK if I took the three new boxes instead of the classical boxes, assuming I had room in the car. Sure, he said. No problem.
Now I was prepared to look at the jazz records, which were on the other side of the room from the classical boxes and the boxes of 78s. One box was a little smaller than the others. I grabbed that one first. It was filled with 10-inch LPs. I pulled out the first record: Miles Davis Volume 2, Blue Note 5022. My hands were trembling with excitement as I turned the record to its side, looked the cover over carefully on both sides, and pulled the record from its jacket. This would be the first test of whether the drive down to Baltimore was a complete waste of time or an opportunity to buy a jazz collection that I could potentially treasure for the rest of my life. I gently took the record from its cover and pulled it over to the nearest light.
Chapter 5
So I was carefully handling the first record in the first box, Miles Davis Volume 2, Blue Note 5022. I had once owned this record in poor condition. It was so poor, in fact, I didn't even want it in my collection, and so I sold it on eBay. This one in my hands, under the light, an original pressing, 767 Lexington Avenue, I don't think it was ever played. Maybe once, on the day that Uncle Bruce purchased the record, which was August 20, 1954. I know that because Uncle Bruce clearly marked the date in pen "8-20-54" on the back of the record, in the upper left corner. There was also the original price of the record in pencil on the upper right corner in the back: 3.75.  Otherwise, the cover was quite clean, a little bit of splitting at one seam, a little wear on the front. For eBay I would grade it as VG++. For me, as a collector, I would grade it as very sweet.
The box of 10-inch LPs had a bunch of other Blue Notes and about an equal number of Prestiges. They were all in similar condition, all with the now-familiar writing of the date on the back cover. Some were worse than others, unfortunately, such as the MiIes Davis Quartet, Prestige 161, with all of the seams completely split. It wasn't all gems. There were a few Stan Kenton 10-inch LPs, and a Jackie Gleason 10-inch LP.  There was also The Fabulous Thad Jones On Debut, which I had never seen before, and Originalee Lee Konitz on Roost, which I had also never seen. All in all, it was quite a pleasant box of 10-inch LPs.
Then I turned to the other boxes. The first one was all Sinatra. A full box of Sinatra. Not in such great condition either. The next box was mostly Carmen McRae and other vocalists. Nothing exciting here, either. Then bit by bit in other boxes I started pulling out jazz records to put into the boxes I had brought with me from New York. The first, I think, was a Gene Ammons on Prestige, Funky. Then Jammin' in Hi Fi. Nice records, but not what I had driven down for. Then I started hitting some of the big ones: Tommy Flanagan Overseas, Mobley's Second Message, Saxophone Colossus.
In looking at these records, I remembered something Rob had told me earlier: That Uncle Bruce seemed to favor some records over others and had put them in plastic sleeves. Actually, that was only partly correct. What Uncle Bruce had done was to KEEP the records in their original loose plastic sleeves. In looking at these records, I got the sense that Uncle Bruce bought them, opened them, put the date on the back, perhaps played them once or twice, and then put them back in the jacket with their original rice paper inner sleeve and the original loose plastic sleeve that was used to package them in the 1950s.
For the most part, these were like new records, what you would have seen on the shelf if you had walked into a record store in 1957 or 1958. Just to give you an example, here's Art Pepper Meets the Rhythm Section, an original pressing with the blue and red writing on the back, just as it appeared in Uncle Bruce's collection, with the loose plastic sleeve and the original promotional material from Contemporary inside the sleeve.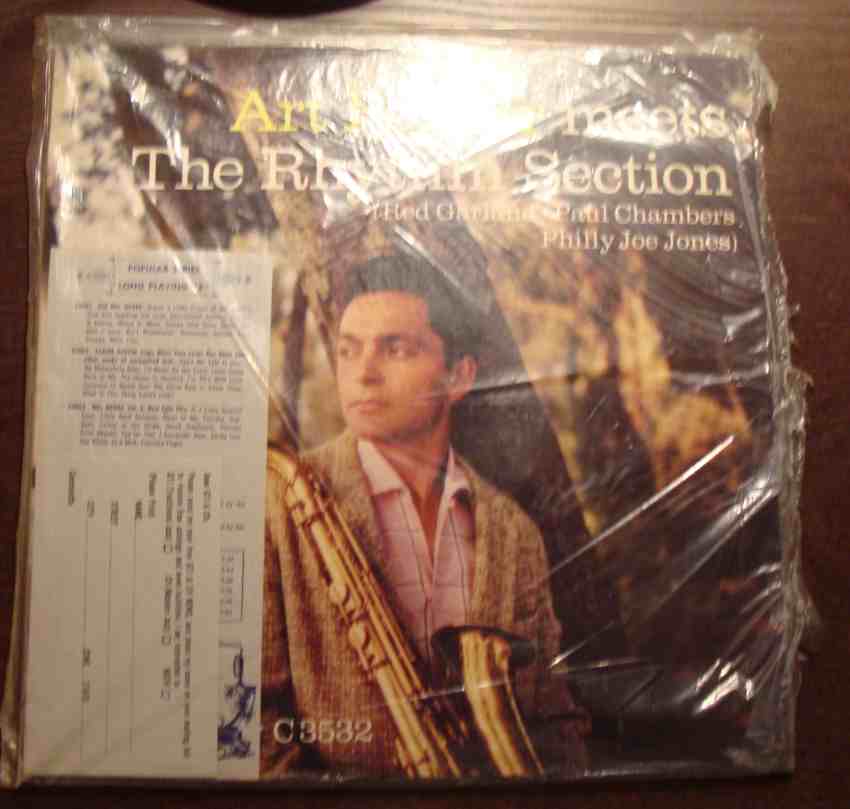 The record and cover are in perfect, new condition, except for the date written in ink on the back, 6-7-57. The Flanagan, Mobley, Colossus, Jackie's Pal, Jutta Hipps, and most of the others, all like new. It wasn't all perfect, however. The copy of John Jenkins on Blue Note had water damage. The Giant Steps was a later pressing. Some of the Blue Notes were second pressings. But it was nice. And it was a wonderful score for me as a collector, since it filled in so many of the hard-to-fill gaps in my collection.
I filled up the five boxes I had brought and sat down at the dining room table in Rob's apartment. It was now after 8 p.m. I had been looking at the records for about an hour and a half, going through each of the collectibles and putting them into my boxes, leaving the others untouched in the boxes where Rob had been keeping them. It was time to talk price. I made a fair offer in between my minimum and maximum and we shook hands. I handed Rob three certified checks I had brought with me to Baltimore.
The records were mine. Together Rob and I hauled the boxes down the stairs, down the corridor and into the car. I went back to the apartment one last time to make sure I had taken everything, including the three boxes of 78s, and to get Marty the dog, who had been patiently waiting in his crate the entire time.
At about 8:30 p.m. I shook hands with Rob, got into the car and pulled out of the driveway, my niece's Toyota Highlander bogged down under the weight of more than 1,000 records, including some of the most collectible jazz records of all time. I called The Lovely Mrs. JC. I told her I had the records. She was happy for me. I called Dan. He was happy as well. I had a big smile on my face the entire three and a half hours back to New York. I pulled up in front of my apartment, grabbed a cart from my doorman, and piled onto it the five boxes I had filled, plus the box of 10-inch records still in Rob's original box. I unloaded them in the apartment and sat down on my sofa, happy and content.
Chapter 6
So now some of the best records from the Baltimore collection were in my apartment and it was about 1 in the morning and, of course, I couldn't sleep knowing the records were sitting there waiting to be perused. I moved the records from boxes to crates and began just looking through them one more time, this time with no hurry, no rush. It was a great moment, a man and his score. I didn't listen to any of the records at this point. There was just something about keeping them as a whole and letting the feeling linger that I didn't want to disturb.
When morning came I had to get ready for the WFMU Record Fair. I already had 14 boxes of other records in my cramped apartment. I started looking through the Baltimore collection to see if there was anything obvious I could pull out and possibly sell at the record show. I found a few items: There were three Sonny Rollins Blue Notes I now had in triplicates; the copy of Mating Call was an upgrade from my copy; I already had two mint copies of Study in Brown, so I could sell a spare. Same with John Coltrane with the Red Garland Trio, Prestige 7123, and one of the Bud Powell Blue Notes
I put those records in a separate box and brought them to the fair. I set up my table at about 2:30 and by 4 p.m. most of those records were gone, sold to a couple of dealers from Japan. By the end of the day Saturday, they were all gone.
The rest of the records in my apartment were sitting there, still unplayed through the weekend. I was still just looking at them, marveling at their condition, trying to figure out what to do with their packaging. Many were still in their original rice paper sleeves and loose plastic outer sleeves. These sleeves were all more than 50 years old. I couldn't really keep the records in those sleeves, could I? But they looked so good in those sleeves and it really did give me the feeling of walking into a record store and perusing the bins in 1957 or 1958. I moved some of the records to new inner and outer sleeves, especially those that didn't have inner sleeves to begin with, and they certainly looked better and safer that way. But I didn't go all the way. Even now, as the records sit in my living room nearly two weeks later, some of the records are in new sleeves, and some are still in the original packaging from the 1950s.
There was one other important matter. My niece's Toyota Highlander was sitting on 81st Street on the Upper West Side of Manhattan with 15 boxes of records from the era of classic jazz recordings, including three boxes of 78s whose contents were a mystery to me. And there was to be a point soon where my niece needed her car back. There was no room in the apartment for these records. The only options were to bring them to storage or bring them to my house in The Berkshires, where there is plenty of room. The decision was easy: If I put them in storage, I wouldn't really get to go through them. The plan was to drive to the country and, at 7 a.m. on Tuesday, November 26, Marty and I got in the car and headed for The Berkshires.
I had a conference call with a client when I got there, then I was on deadline to do three other writing projects. But the records were too powerful a presence to ignore. I unloaded them all from the car, put the 12-inch LPs in one corner and isolated the three boxes of 78s that I hadn't previously explored. Remember, I didn't even know these records existed until I arrived in Rob's apartment in Baltimore.
The boxes containing the 78s were the same types of Home Depot boxes as those that had the LPs. They were not sturdy and were, literally, coming apart at the seams from the weight of the 78s. I opened the first one. There a bunch of 78s, no sleeves, wrapped in an old cloth, probably the same cloth wrapping for more than 40 years. Nothing special in this batch. A lot of gospel music, which didn't interest me.
As a dug deeper into the Home Depot box, the findings become more and more interesting. A whole group of Prestige 78s, all in perfect, unplayed condition. As I was digging through the boxes, I realized I wanted to share this with Dan, who, like me, has a passion for 78s. I called him up. I'm going through the 78 boxes now, I told him. Then, as I kept going through records I would read him the titles. A bunch of Miles Davis, Stan Getz, Sonny Stitt and even a few Sonny Rollins 78s on Prestige, and then, finally, the first of the familiar blue and white labels, the Blue Notes. Bud Powell, Tadd Dameron, Miles Davis. All in pristine condition.
As I was going through these records, with Dan on the line, there was one obvious gap: Where were the Bird records, specifically the Dials? Uncle Bruce must have had at least some of the Birds. I told Dan I had to go, but would call him back if/when I found the Birds. Sure enough, five minutes later, I discovered an old Capital Records carton. On the outside, in Uncle Bruce's now familiar handwriting, were the words:
"Chas Parker, Assorted Mercury, Dial, Savoy, 1-1-54"
I opened the box and called Dan.
Chapter 7
So I was back on the phone with Dan and poring through a box of Charlie Parker 78s. There were a bunch of Dials, some Mercurys and Savoys. I had never had much luck securing Charlie Parker Dials, so this would be a very welcome addition to my collection. Then I went into another one of those Capital mailers and it was filled with Blue Notes. A bunch by Miles Davis and Lou Donaldson, including "If I Love Again," which Dan put on in the background to accompany me. These, too would be a welcome addition to the collection and they made me realize how pleased I was that this collection ended up in my hands because I would really treasure and appreciate these records. There aren't that many people who collect and appreciate 78s anymore and I, fortunately, happen to be one. They also seem to fit quite nicely into my collection, filling in a lot of the gaps.
I had now been through the 78s and the last element was to go through the remainder of the LPs that I had left in the original Home Depot boxes. There was a lot of junk in there, and I immediately stuffed a bunch of records into a couple of boxes to donate. But there were also a lot of nice records, not necessarily high-end collectibles of the caliber that I had brought into my apartment, but some very great music, great records and many still in their original loose plastic sleeves. There were Cannonball Adderleys on Riverside, Milt Jacksons on Savoy, Miles Davis on Columbia and even a couple of Blue Notes I had somehow missed, including Horace Silver's Cape Verdean Blues.
At this point, I still hadn't listened to any of the records. I was up in the country. I pulled out an old favorite to break in the collection, My Favorite Things by John Coltrane. Then, Kind of Blue. I did sort of the same thing when I got back to New York and starting playing those records. I started with Tenor Madness, a beautiful New York original pressing, not a mark on it. Then I went to Blue Train, an original pressing, one side New York 23, one side West 63rd. Absolutely mint, save for the date written on the back by Uncle Bruce, 1-31-58.
As of this writing I still haven't listened to Tommy Flanagan Overseas, or Jackie's Pal, or Jutta Hipp With Zoot Sims, or Informal Jazz or most of the better collectibles, which are still sitting in crates in the apartment. I plan to go through these records slowly, listening to them one at a time through the winter and into the spring, if I can hold out.
I am near the end of the story of this collection, save for one last element. I would like to know more about Uncle Bruce and the history of the collection itself. Rob was a young child when Uncle Bruce died, so he didn't have much to share. I could see that Uncle Bruce lived in Milwaukee for a good portion of the time he was buying these records. Some of them had stickers that said:
Radio Doctors: Two Stores
213 W. Wells St. – BR. 6-6422
404 N. Third St. – LO.2-7607
Milwaukee, Wisc.
He then moved to Southern California, because the later records had stickers and stamps from a record store in Compton. In a follow-up e-mail, Rob said that his uncle was named Bruce M. West and he confirmed that he lived in both Milwaukee and Los Angeles. He said he had given my information to his brother and sister and he was hoping that they would reach out to me to share more information about Bruce. If I hear from them, I will write an epilogue to this story.
In the meantime, I guess I will always feel some kind of connection to Uncle Bruce in the passion we shared for this great music and also, of course, for the records themselves. He didn't have the largest collection, but he had some of the most precious and rare records of the era and I am proud to now own them. He obviously cared for these records and kept them in beautiful condition, treating them like the gems that they are. I plan to do the same.
Every time I pull one off the shelf and pull it out of its jacket, I will see the writing with the date on the back, knowing that Bruce M. West had purchased that record on that date, had kept it in its original packaging and had preserved it well, so that when I came upon this very record it would be like new and I could enjoy it with the same love and appreciation that he did 50 or more years ago. And, hopefully, 50 years from now, someone will look at that very same record, with that date carefully written on the back, and put the music on a turntable and feel the same joy and excitement that Bruce and I felt in the time of our lives.