A New Crowd For the $1,000 Bin?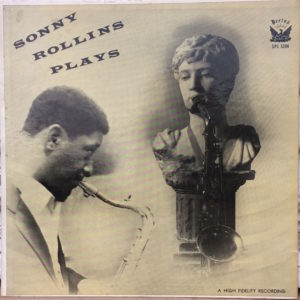 Just a reminder, that auction we wrote about last week (An Old Fashioned Jazz Vinyl Auction) is taking place tomorrow. I spent some time looking through the list and I didn't see that much of interest to me, although there were a few lots. I may place a few bids just for the experience of doing it. If any of you do participate, please share the experience with us here at Jazz Collector.
Now back to the "normal" eBay auctions that we watch, starting with a record that is near the top of my own want list, since it is the only rare Sonny Rollins records missing from my collection: Sonny Rollins Plays, Period 1204. This is an original pressing that looks to be in about VG++ condition for both the record and the cover. Looks like a nice copy but, alas, it will not be mine. The bidding on this has already exceeded $900 with more than a day left. So it seems pretty safe to say this one will reach the $1,000 bin and perhaps even higher.
This one also is destined to get quite a high price, perhaps the $2,000 bin: Kenny Dorham, 'Round About Midnight at the Cafe Bohemia, Blue Note 1524. This is an original Lexington Avenue pressing that looks to be in M- condition all the way around. The bidding is already at $830 with six days left on the auction.
Noticed a couple more nice Blue Notes this morning, including John Jenkins and Kenny Burrell, Blue Note 1573. This is an original West 63rd Street pressing from the same seller as the Dorham record. It is also in M- condition and is in the $700 range with more than six days left. This seller promises to have a nice week.
Finally, the same seller is offering Paul Chambers, Bass on Top, Blue Note 1569. This is another original pressing, also in M- condition, or perhaps VG++ for the cover. The bidding on this one is "only" in the $375 range, but I would expect this to sell for more than $1,000 in this condition, wouldn't you?