A Rare Trio: Fats Sadi, Yusef Lateef, Duke Jordan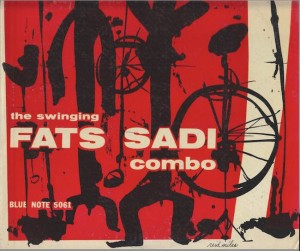 Forgive me for my lack of familiarity with this record and this artist: Fats Sadi, The Swinging Fats Sadi Combo, Blue Note 5061. I guess I must have seen this record somewhere on a discography or on The Blue Note Story, but, honestly, seeing this record on eBay, I thought it was a mistake. Then I did a Google search and Fats Sadi was a Belgian vibist who played with a wide range of artists, including Django Reinhardt, Don Byas and, later on, the Kenny Clarke-Francy Boland Big Band. I don't know anything about this 10-inch record or how it came about that Fats Sadi recorded for Blue Note in the early 1950s. I do know that this copy of the record is listed in VG+ condition for the record and Ex for the cover and has a start price of about $80. With more two days left on the auction there are no bidders.
This one went for a pretty steep price:
Yusef Lateef, Prayer to the East, Savoy 12117. This was an original pressing with the red label and was listed in VG++ condition for both the record and the cover. It sold for $362. The same seller did quite well with the Duke Jordan record we were watching the other day: Duke Jordan, Flight to Jordan, Blue Note 4046. This was an original West 63rd Street pressing listed in VG++ to mint condition for the record and VG++ for the cover. When we looked at this record just yesterday the bidding was in the $80 range and the action was light. I suggested that the bidding would heat up at the end and it certainly did. The record wound up selling for $1,052.76.