A Trio of Rare (Original?) Blue Notes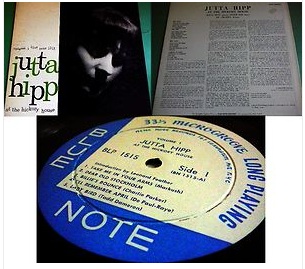 I'm watching three interesting jazz vinyl listings on eBay from the same seller in Germany. They are:
Sonny Clark, Cool Struttin' Blue Note 1588. It's a very weird listing. It uses a canned picture of the record, no labels, no back cover, nothing. It describes the record as a Lexington Avenue label. Huh? As we here at Jazz Collector know, Cool Struttin' was issued way after Blue Note moved away from Lexington Avenue and Lexington Avenue labels. The record is listed in M- condition and has a buy-it-now price tag of $2,999. The seller has a lot of feedback so I'm not necessarily questioning his credibility, but I certainly wouldn't bid on this. Perhaps that's just me.
From the same seller: Jutta Hipp at the Hickory House Volume 1, Blue Note 1515. This also looks like a canned picture. The record is listed in Ex condition and the price is $1,799. Finally, Walter Davis Jr., Davis Cup, Blue Note 4018. This is another one that's lacking in pictures. It is listed in M- condition. The price is $1,999. Do you think anyone will take a gamble on it? We'll watch it so see.