An Old Fashioned Jazz Vinyl Auction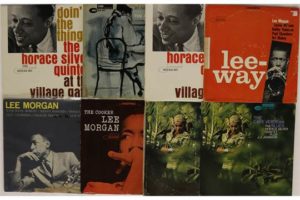 Here's an interesting opportunity: An auction house in the U.K. is auctioning a private jazz collection on Tuesday June 27 and there are options for individuals to bid live, either online or by telephone. The auction house is Omega Auctions and music is one of the areas in which they specialize. The collection belonged to a collector named B.W. Duncan and, of you are interested, you can read his bio here. As for the records themselves: There are quite a large number of Blue Notes, offered as individual pieces, such as Eric Dolphy Out To Lunch or Herbie Hancock My Point of View. There are also Blue Note packages sold in lots, such as an Art Blakey lot or a Horace Silver/Lee Morgan lot. Many of the records in the collection are U.K. pressings. It looks like there are 260 lots in all. It's worth taking a look at the auction, but make sure to read the instructions if you want to bid because you have to set things up in advance and you have to pay some fairly hefty fees.
I have one experience with this type of auction, and it was a great one. I chronicled it in a 6-part series on Jazz Collector back in 2010. I got some great records in great condition at great prices: Wes Montgomery Full House for about $70, a few original New Jazz LPs for less than a hundred bucks, Stan Getz For Musicians Only, a batch of Bill Evans records and others. It was also a kind of fun process, bidding on the phone and listening in as the action was taking place. In retrospect, as I look back, I could have been more aggressive. For example, an original Lexington Avenue Pressing of Introducing Kenny Burrell on Blue Note in nice condition sold for $325.  A copy of Kenny Burrell Blue Lights Volume 2 sold for $230. I would be quite pleased to get those records at those prices today.
What do you think? I think I may be participating in this, probably online and not on the phone. It's a fun thing to do and, if you win anything, it's great to get one of those surprise packages in the mail and enjoy your score. Of course, by publicizing the auction here, I greatly diminish my changes of winning anything. But that's what we do here at Jazz Collector. 🙂