Another UK Esquire and an Audiophile Question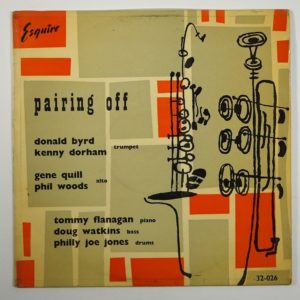 Back with another Esquire Prestige to start with, if you will all kindly indulge my new obsession: Donald Byrd, Kenny Dorham, Gene Quill, Phil Woods, Pairing Off, Esquire 32-026. This is an original UK pressing listed in VG+ condition for both the record and the cover. It's a another cool cover, IMHO, illustrating the instruments of the two sets of pairs, the trumpeters and altoists. It's quite a bit different than the U.S. version, which was released as a session led by Phil Woods. Bidding is in the $120 range with more than a day left on the auction.
Here's a nice one: Sonny Clark, Cool Struttin', Blue Note 1588. This is an original West 63rd Street pressing that looks to be in VG+ condition for the record and probably VG++ for the cover. This one is now in the $1,260 range, but I would expect the final price to be much higher, as this is a record we've often seen sell for much more, even in less than perfect condition.
This one caught my eye because it's not something I normally collect: Bill Evans, Sunday at the Village Vanguard, Mobile Fidelity UD1S 2-002. This is a sealed copy using something called an Ultrasonic one-step cutting process, which I can surely Google to find out more information, but it also sounds something like marketing hype, so I will pose the question to our readers who may have more information and interest in these new types of issues: Does it sound different/better than the original? I have my doubts, but I am open and would even consider buying a copy of the record, since it is a favorite, although the price is getting up there. This one is already at more than $200 with another day left.