Back In Business: Bird, Blue Notes and More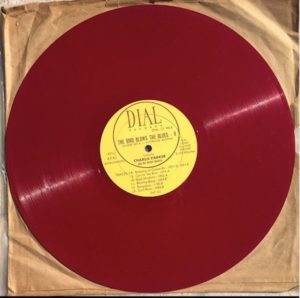 I actually have more I want to say about the Coltrane documentary, which I will do in a subsequent post, but today I promised Jazz Collector readers a regular post and that typically means looking at some rare jazz records on eBay. As I type this I have a random playlist on in the background and Bird just came on playing "Confirmation." So let me pause for a moment. Okay, back with you all.
Well, perhaps there is something in the air. First record I went to on eBay is: Charlie Parker, Bird Blows the Blues, Dial 901. This is an original pressing with the red vinyl. I believe we have established here on Jazz Collector that this was the first 12-inch vinyl record ever? I add the question mark because I'm still not sure. Anyway, I have never owned a copy of this record, and won't own this one. The starting price is $1,500 and it's only in VG condition. Even worse, the seller doesn't include an original picture. That very clear, really enticing picture accompanying the listing, and accompanying this post, is actually copied from a book. For $1,500, I personally wouldn't mind seeing the real deal, not that I would ever pay $1,500 anyway.
This is another gap in my collection that won't be filled this week: Hank Mobley and Lee Morgan, Peckin' Time, Blue Note 1574. This is an original West 63rd Street pressing with the deep grooves, ear, RVG, etc. It is listed in M- condition for both the record and the cover. The price is already approaching $1,300 and, in this condition, I wouldn't be surprised if this one ends up in the $2,000 bin, if not the $3,000 bin.
Here's another one destined to fetch a nice price: The Magnificent Thad Jones Volume 3, Blue Note 1546. This is an original New York 23 pressing listed in VG++ condition for the record. The cover is listed as VG, although it looks like that may be a conservative grade. The price is in the $800 range as of this writing and is also destined to go up because there are several days still left before the auction ends.
For some reason my attention today seems to be drifting towards records that I don't own, but would like to own. So we will close with yet another: Roland Kirk, Triple Threat, King 539. This is an original pressing from 1956. The record is in VG++ condition and the cover is VG or VG+. Man, I would like to own this record. To be honest, I've never even heard it. How old was Kirk in 1956? (Checking Google). He was 21. Wow, I should figure out a way to at least listen to this record to hear what he sounded like at that age. As regular readers may recall, he was one of my all-time favorite live performers, totally mesmerizing and extremely underrated on tenor. Anybody out there have a copy of this record and want to share their thoughts?
Gotta go. Ella and Louis just came up on the random playlist.