Back to Blue Note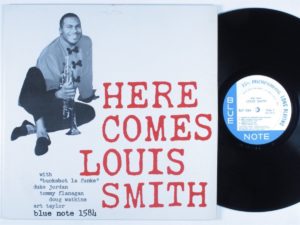 If yesterday was a Prestige day, let's make today a Blue Noter, starting with Here Comes Louis Smith, Blue Note 1584. This looks to be an original West 63rd Street pressing listed in VG++ condition for the record and VG+ for the cover. The bidding is in the $175 range with about four days to go. We were watching a different copy of the same record a few days ago and that one was in just VG condition for the record and VG+ for the cover. It wound up selling for $561, so I would expect this one to fetch a higher price. Will it enter the $1,000 bin? Could be. According to Popsike, the highest recorded price for this record is $1,514. Not owning an original copy of this record myself, I haven't listened to it in a long time. When I put a record on the turntable, I usually prefer an original pressing. But perhaps I will make an exception. After all, the personnel includes one of my all-time favorite alto players, none other than the infamous "Buckshot La Funke."
Dexter Gordon, Dexter Calling, Blue Note 4083. This looks to be an original New York USA pressing. Based on the description the record and cover both look to be in VG++ condition. The bidding is getting close to $300 with more than a day left on the auction. Getting back to Popsike, to my surprise, this record has sold for more than $1,000 at least once, with a top price of $1,045.
Bennie Green, Walkin' and Talkin', Blue Note 4010. This looks to be an original West 63rd Street pressing in Ex condition for the record, which I translate into VG+ using my terminology, and VG+ for the cover. The bidding is in the $170 range with more than two days left on the auction.
This is another one we were watching: Clifford Brown, New Star on the Horizon, Blue Note 5032. This was an original 10-inch pressing listed in VG- condition for both the record and the cover. At the time I wrote the original post the record was sitting at $50 with 13 bids and three hours left on the auction. I speculated the price would go up and it did, all the way to $265. Not bad for VG-, right?