Back to the Bridge and a Rare Blue Note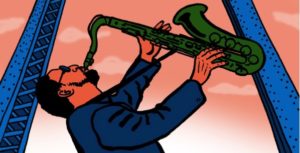 This thing with the Sonny Rollins Bridge is actually picking up a lot of momentum. I am back in Manhattan and I went into my elevator today where there is a television that is always tuned to a local news station and the next thing I know there's a black and white clip of Sonny as part of a very lengthy feature story about the campaign to rename the Williamsburg Bridge in his honor. Then I got back upstairs and did a Google search and three days ago there was an article in Slate advocating "Why the Williamsburg Bridge Should be Renamed After Sonny Rollins." I must admit, when I first wrote about this back in June ("The Sonny Rollins Bridge: Why Didn't We Think of That?") I thought this was really a pipe dream and not a potential reality. Now, I've come full circle into believing that this can actually happen. Hats off to Jeff Caltabiano for coming up with an inspired idea and actually pursuing it. I will reach out to Jeff this week and find out what we can do to help.
Meanwhile, I was on eBay watching a copy of Sonny Rollins, Saxophone Colossus, Prestige 7079. This was an original promo record listed in M- condition for the record and M- condition for the cover, although the cover had radio station call letters written in large ink on the back, which would diminish the cover in my eyes and in the eyes of most collectors, I would presume. This one sold for $2,334. Without the radio call letters, I think this would have made it into the $3,000 bin. The other Rollins record I was watching, the UK pressing of Worktime, wound up selling for about $270. About that cover — I never meant to imply that the illustrator was trying to convey anything about drugs but, like GTF and other commenters, I see something in the cover where that can come across, although I do like the cover quite a lot, more than the U.S. version.
Also on my watch list was this item from the seller Keca222, who has been quite active lately: Kenny Dorham, Afro-Cuban, Blue Note 1535. This was an original Lexington Avenue 12-inch pressing listed in M- condition for the record and Ex condition for the cover. It sold for$4,049.99. Wow. Don't forget the real original pressing of Afro-Cuban was the 10-inch record. For the 12-inch release, they added another side of material that had been previously recorded but unreleased. I remember a post several years back where Rudolf mentioned not considering the 12-inch record the original pressing and, for some reason, that always stuck with me. Now the 12-incher is a $4,000 record and the 10-incher would be, what, maybe $1,500 at most? I have an original 10-inch pressing, but a reissue of the 12-incher. Would love to have an original 12-inch LP, but $4,000 is a bit beyond my comfort zone — quite a bit, in fact.