The Sonny Rollins Bridge: Why Didn't We think of That?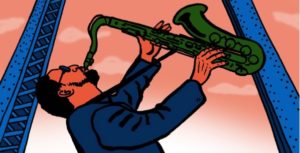 It felt so good clearing out portions of my inbox yesterday, I'm going to the same today, starting with a couple of items about one of my heroes, Sonny Rollins. The first comes from an article by Amanda Petrusich in the New Yorker from April 5. (I told you I was way behind on my email). It is about a movement, now in its early stages, to rename the Williamsburg Bridge in honor of Sonny. The Sonny Rollins Bridge: Now this is an idea we can all get behind. The idea is the brainchild of a guy named Jeff Caltabiano, who has established something called The Sonny Rollins Bridge Project. When we get a chance we will reach out and find out if he has made any progress.
Here's a second item, this one from The New York Times, about the acquisition of Sonny's personal archive by the Schomburg Center for Research in Black Culture, which is part of the New York Public Library. The collection includes rehearsals of recordings and practice sessions; a Selmer saxophone; notes, letters and other written material, some musical, some not. The Schomburg Center is located at 515 Malcolm X Blvd. in Harlem. Can't wait to check it out.
And here's one from the Wall Street Journal about boxed sets. The article was occasioned by the release of "The Jazz & Blues Artbox," which consists of 230 DVDs from Bern Jazz Festival Concerts from 1983 to 2002. It is 400 hours or so of music, plus 96 interviews, plus a book and booklets. Oh, yes, and the set its own cabinet as well. Five thousand copies are being produced, which seems somewhat optimistic to me, given the $8,400 price tag. But, who would have thought years ago that a single Hank Mobley record would routinely sell for more than $5,000?
Just as I'm typing this, here comes another note from CeeDee, with a link to: Blue Mitchell, Blue Moods, Riverside 336. This was an original pressing listed in VG+ condition for the record and VG for the cover. The final price was $460.55. This has always been one of the Riversides that has attracted been of high interest to collectors, so this is no surprise to me, particularly as we are seeing a huge rise in prices among collectible records in lesser condition. It used to be that the big bucks were reserved for records in top condition, not that anyone would consider $460.55 to be "big bucks" anymore.
And now one from Fredrik with this link: Lous Smith, Smithville, Blue Note 1594. And this note: "I just wanted to highlight an auction from JRC where a copy of Luis Smith on Blue Note 1594 just sold for $3300. It smashed the previous high price of $1825 by quite a distance. Quite interesting, cause the cover was less than perfect with a large tear on the front, lower right hand corner, and a bottom seam split."