Candy, An Autograph and 10-Inch Vinyl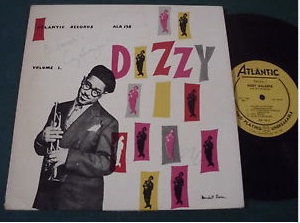 Here are a few more items from our watch list on eBay, starting with Lee Morgan, Candy, Blue Note 1590. This is an original pressing that looks to be in VG++ condition for both the record and the cover. As a bidder I would be careful of the "light background noise" part of the description because the cleanest copies of Blue Notes don't typically have background noise, at least not the original 12-inch pressings. Other bidders seem to be more sanguine about the description. The bidding is now in the $1,800 range with two days left.
Dizzy Gillespie Volume 1, Atlantic 138. This looks to be an original 10-inch pressing signed on the front by Dizzy Gillespie. I'm sure Don-Lucky or one of our other readers will weigh in on the authenticity of the autograph. The cover looks to be in VG+ condition and the record is described as VG+ as well. Bidding is in the range of $110 and there's more than a day left on the auction.
Speaking of 10-inch records, we also had our eyes on these:
Lee Konitz Featuring Miles Davis, The New Sounds, Prestige 116. This was an original pressing listed in M- condition for both the record and the cover. You don't often find these 10-inch pressings in such nice condition, unless you happen to get lucky, as I did with the Bruce M. West Baltimore collection last year.  This one sold for $360.55
Fats Navarro, New Sounds in Modern Music, Savoy 9005. This was from the same seller and was also listed in M- condition for both the record and the cover. It sold for $113. Any theories as to why the Konitz Prestige sells for more than triple the price of the Navarro Savoy?