eBay Watch Resumes: Here Are Some 10-Inch LPs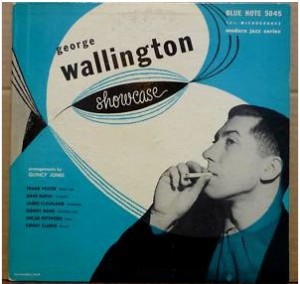 I went back on eBay last night for the first time in a couple of weeks. It was like a visit with old friends, seeing the Prestiges and Blue Notes and Norgrans all hanging out as if I had never left. After a short visit I put a few on my watch list to see once again. Here are some of them:
Gigi Gryce Big Band Featuring Clifford Brown, Blue Note 5049. This is an original 10-inch record and is being offered by Euclid Records. The vinyl is listed as VG++ and the cover is M-. The current price is $73.85, which seems pretty low, but the 10-inchers no longer seem to have the cachet they once had, even though in many cases they are the original pressings. This one was originally issued on French Vogue, right? Anyway, I'd be tempted to bid on this one myself since I once had a near-mint copy of this record and let it slip through my fingers, although for a price of $200 more than 20 years ago, so I can't complain too much. In a similar category is this record: The George Wallington Showcase, Blue Note 5045. This one is being offered by Atomic Records, one of the other large sellers on eBay. This one seems to be in
VG+ condition for both the record and the cover, although Atomic uses a different nomenclature than we use, and it sometimes varies the language between "excellent" and "VG" or "VG+." In any case, this one is under $70 and hasn't yet reached the seller's reserve price. When I purchased the Clifford Brown/Gigi Gryce Blue Note many years ago, I also purchased a copy of the Wallington record in near mint condition. This one I kept and it is still sitting on my shelf, but I am considering selling it and I'm curious to see the final price on this copy. Finally, while we're watching 10-inch LPs, here's a nice Prestige, also from Euclid Records: Jimmy Raney, 1955, Prestige 199. This is an original 10-inch LP with the yellow label and it is listed in M- condition for the vinyl and VG++ for the cover. The picture of the cover does not seem VG++, so perhaps that is impacting the bidding, although we know Euclid is reliable in its grading. Sometimes it's hard to get a good picture of a cover, especially a black cover. In any case, this one is $76 with a few hours to go. Perhaps I may even bid on this one as well.