Expensive Jazz Vinyl, Back To the Movies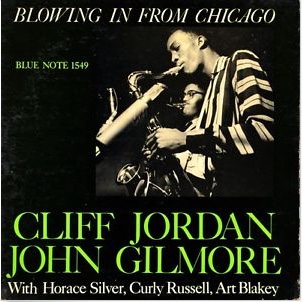 I was off eBay for a few days and missed a few big-ticket items, starting with Cliff Jordan and Jon Gilmore, Blowing in From Chicago, Blue Note 1549. This was an original pressing with the New York 23 logo. The record was listed in M- condition and the cover was VG+ with some water stains on the back. The final price was $2,200, the first time to my recollection that this record has ended up in the $2,000 bin. I still don't own an original pressing of this record and it seems pretty obvious (to me at least) that I won't be buying one on eBay. This one falls into the same category: Hank Mobley and Lee Morgan, Peckin' Time, Blue Note 1574. This was an original pressing listed in M- condition for both the record and the cover. The final price was $2,750, not too bad for a seller with only 98% positive feedback.
Speaking of Lee Morgan, I finally did get to see the documentary "I Called Him Morgan" the other day. Snuck off from work Monday morning, but don't tell anyone. I liked the film and especially some of the clips: Morgan playing "Dat Dere" and "Moanin'" with Art Blakey, and a few others. The main focus of the film was on Morgan's relationship with his common-law wife Helen, who shot him at the downtown New York jazz club Slugs back in 1972, when Morgan was only 33. Amazing how much he accomplished in such a short life. I would have liked the film to have focused a little bit more on Morgan — more about his childhood, his background and what it was the made him so special as a musician. Small complaints however: We have to appreciate any documentary that explores the music and musicians we love and treats them with the respect they deserve. Speaking of which, I have tickets to take my whole family to see Chasing Trane this weekend in New York City. Looking forward to exposing them all to more of Coltrane.