Apr 3, 2012 Autographs, Blue Note, Prestige, Verve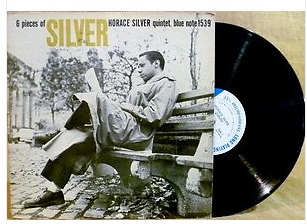 Slow time on eBay this week for collectible jazz vinyl. To save time, rather than going through all the listings I'll often do searches of Blue Notes or high-priced records or other filters to find the items most interesting to the Jazz Collector audience. Using those same filters I always use, hardly anything too exciting or expensive came up for this entire week. Perhaps its a hangover from the bobdjukic auction that seems to have everyone so enthralled. Having said that, there are always items of interest to watch, bid on, envy or all of the above.
Horace Silver, Six Pieces of Silver, Blue Note 1539. This one has the West 63rd Street address which makes it a second pressing, or at least not a first pressing. The record is in VG++ condition and the cover is VG. What makes it interesting is that it is signed by Horace Silver. What's that worth? We'll see. So far there are no bidders with a start price around $200.
Here's a reason to read auctions carefully: Ben Webster Soulville, Verve 8274. This is advertised as an original pressing when it clearly is not. This has the MGM label while an original has the trumpeter label. Nonetheless there is a bid of about $80 on this records. The seller has minimal feedback. Not a good way to get started on eBay.
This one is closing today: Jackie McLean, Makin' the Changes, New Jazz 8231. This is an original pressing but not in great shape. The record looks to be VG or VG+ (probably VG — when the seller can't decide, it's always best to go with the lower rating). The cover is probably VG+. The price is now in the $140 range.
Tags: Ben Webster, Horace Silver Autograph, Jackie McLean, Jazz Vinyl