For the $1,000 Bin: Jordan/Gilmore On Blue Note, Saxophone Colossus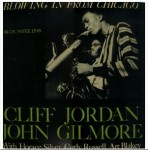 It's time to throw a few more items into the $1,000 bin. These are some of the rare jazz records that have recently crossed the $1,000 price threshold.
Cliff Jordan and John Gilmore, Blowin' in From Chicago, Blue Note 1549. This was an an original pressing with the West 63rd Street address and deep groove. The record was listed in M- condition and the cover appeared to be at least VG+, perhaps better. The price was $1,199.99.
Sonny Rollins, Saxophone Colossus, Prestige 7079. This was an original pressing. The record was in VG++ condition and the cover was VG+. The price was $1,266.66. The item had more than 500 page views, compared to less than 200 for the Cliff Jordan/,John Gilmore LP. The seller, bobdjukik, seems to have a knack for getting people to view his records.