Four for the Jazz Collector Price Guide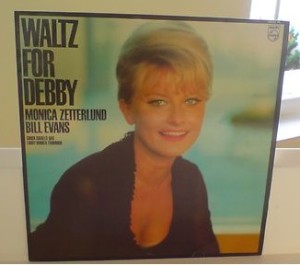 Here are the results of some jazz vinyl auctions we've been watching on eBay:
Monica Zetterlund and Bill Evans, Waltz for Debby, Phillips 08222. This was an original mono pressing listed in "pristine" condition for the record, which we translate to M-, and VG++ for the cover. Not a lot of description from the seller, but certainly a lot of interest from the buyers. This one had 13 bids and sold for $555.65.
Louis Smith, Smithville, Blue Note 1594. This looked to be an original West 63rd deep-groove pressing. The record was listed in VG+ condition, and the cover was listed as VG+, but somehow the seller made it sound as if it were actually better than that. The play-grading described the record as between VG+ and VG++, with the description of some surface noise. And the nice clear picture of the cover made it seem that the cover may also have been better than VG+. I have a feeling whoever purchased this record may be hoping that it is, indeed, better than VG+. Why? Well, the price was $960. As for me, I tend to believe the seller's original grading of VG+, and that's what I would expect.
This looked like a nice one:
Eric Dolphy, Far Cry, New Jazz 8270. This was an original purple-label deep-groove pressing listed in M- condition for the record and VG+ for the cover. These plain white New Jazz covers have a tendency to get dirty, but this one looks pretty nice. It sold for $403.88.
Dexter Gordon, Our Man in Paris, Blue Note 4146. This was an original New York USA mono pressing with the ear, the Van Gelder, etc. It was in M- condition for both the record and the cover. It sold for $393. This was the first Dexter Blue Note I ever purchased, in the bargain bin at Sam Goody in Valley Stream, NY, somewhere probably around 1971. I think it's still my favorite of the Dexter Blue Notes.