Jazz Collector Back In Business (Sort Of)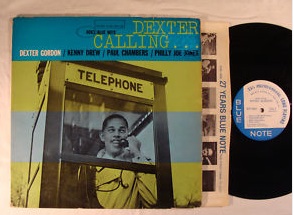 There was a time, as many of you know, when I was selling records regularly on eBay to clear out duplicates and winnow down my collection. I was selling so regularly, in fact, that I became both a Power Seller and a "Top-Rated Seller" on eBay under my "nom de ebay" AJdoctor. Nearly a year ago, however, I stopped. I had started a new business – a real one, a one that actually pays the bills – and it started taking off last March, which is when I stopped posting records on eBay. And once I stopped it was hard to get started again. In the meantime, however, I, of course, kept accumulating records. I purchased a collection this summer of mostly traditional records and I purchased another small collection just a few weeks ago, with a bunch of Blue Notes of mostly later vintage. The point is, I still have many, many more records than I either need or have room for, so, as of yesterday, I am back to posting records on eBay. I started with a couple of Blue Notes and even put up some interesting blues records that I purchased in the collection this summer. Here are a couple of samples:
Dexter Gordon, Dexter Calling, Blue Note 4083. This is an original pressing. It's not in mint condition and some idiot stamped his name a few times on the back cover but, like a lot of these Blue Notes, it sounds so much better than it looks.
This is one of those blues records. I have no idea if this is a collectible, but it seems pretty rare, is clearly an original and I couldn't find even a single copy on popsike. Perhaps someone in the audience will know: The Perry Bradford Story, Crispus-Attucks Records. This is not only unplayed, it is autographed as well. It'll be interesting to hear if there is a story behind this record.
There are two things to note about this return to selling records:
On the Jazz Collector site there is a heading at the top for "Items For Sale." For nearly a year, it's been the same bunch of records I've had parked there. Now, there will be no items worth viewing, so this can be a section of the site to regularly look at once again.
Remember that idea of having a "store" in my basement, with all of my thousands of records to sell? Well, I'm finally ready. If any Jazz Collector reader is in town, or is local, and would like to make an appointment, the Jazz Collector "store" is open for business. You can contact me at al(at)jazzcollector.com.