Jazz On Vinyl and On Film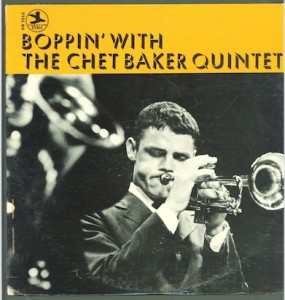 I didn't think this one was a collectible, but there it is being auctioned by the Jazz Record Center with a start price of $100, so it must have collectible value to someone somewhere: Boppin' With the Chet Baker Quintet, Prestige 7512. This is a stereo pressing with the purple label. I can't recall any purple label Prestige selling for $100 or more, so I am somewhat surprised to see this one here. We'll see what happens. On a side note, I saw the Chet Baker bio-pic the other day, Born to Be Blue. Very good film, well done, with a nice performance by Ethan Hawke as Chet. I also saw the Nina Simone bio-pic, Nina, with Zoe Saldana in the title role. There was a lot of controversy about this one because they chose a very light-skinned actress with very white features to play Simone. Anyway, I can't believe I made it through the whole movie. It was so bad. Don't bother. And, if you're a Simone fan, REALLY don't bother. It will just make you angry. I just noticed that the new Miles Davis bio-pic, Miles Ahead, with Don Cheadle as Miles, is playing up here in The Berkshires this weekend, so that may be next on my agenda.
Back to eBay, I have my eye on a couple of Blue Notes that still represent gaps in my collection. The first, mentioned at Jazz Collector all the time, is Lou Donaldson, Quartet, Quintet, Sextet, Blue Note 1537. This is an original Lexington Avenue pressing. The record sounds like it is kind of VG+ and the cover is listed as VG. Not what I would normally consider, but I am a gambler and the price is somewhat reasonable at $300 with about a day and a half left on the auction. I doubt I will do anything, but you never know. Then there is Sabu, Palo Congo, Blue Note 1561. Not sure why I would want this record, other than the fact that it is Blue Note 1561 and I don't own it. Anyway, this is an original pressing with the New York 23 label. The record is listed as VG+ and the cover is VG. The start price is $300 and there are no bidders.