Apr 23, 2012 $1000 Records, Blue Note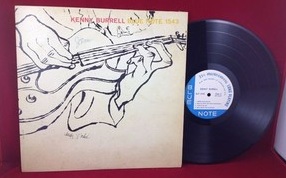 Let's catch up on some of the jazz vinyl we've been watching on eBay:
There was that Kenny Burrell LP with the Andy Warhol cover: Kenny Burrell, Blue Note 1543. This was an original Lexington Avenue pressing in VG+ condition. It was also noteworthy that a previous owner had the lack of foresight and/or stupidity to write his name on the cover. A Warhol cover. Mmmmm. Bad move. I would imagine the writing on the cover had some impact on the price, but perhaps not. It sold for $1,155.
There there were the two copies of Sabu, Palo Congo, Blue Note 1561. This was the one that was in M- condition with a $999 start price. It wound up getting six bids and selling for $1,358.01. The other copy, Sabu, was VG+ for the record and VG for the cover and had the misprint of two Side One labels. Some people find those to be more interesting because they are more rare. As for me, I much prefer to have the proper labels on the proper sides. This copy sold for $460.
This one is from the seller funkyousounds, who is generating a lot of discussion on the earlier post, and how has a large number of highly collectible items closing in the next few hours:
Dexter Gordon, Dexter Blows Hot and Cool, Dootone 207. This was an original pressing with the red vinyl. The record was listed in G+ condition, which is never a good condition, and the cover was VG+. The price was $546. I've got an eye on a few more of this seller's auctions, including: Hank Mobley, Roll Call, Blue Note 4058 and Lee Morgan, City Lights, Blue Note 1578, which both have the right address on the label but do not have deep grooves, as per the listing. Both are in the under-$200 price range with a few hours to go.
Tags: Andy Warhol, Dexter Gordon, Dootone Records, Hank Mobley, Kenny Burrell, Lee Morgan, Sabu