Jazz Vinyl on eBay: Blue Notes & A Roost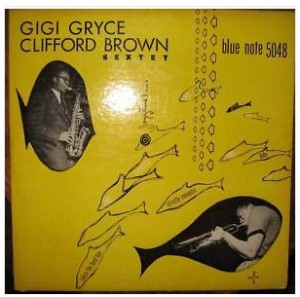 Here's some interesting jazz vinyl we've been watching on eBay:
Gigi  Gryce – Clifford Brown Sextet, Blue Note 5048. This one had a nice picture with it, as you can see, but the description wasn't very complete. The seller noted that the record was glossy and had a few light marks and the cover had some wear, but there wasn't any M- or VG+ or other grading to which we are normally accustomed. Nonetheless, there were bidders attracted to this type of description — optimists I would say — and the record sold for $608. Our previous high for this record in the Jazz Collector Price Guide was $579.
What do you think of records like this next one:
Miles Davis Volume 2, Blue Note 1502. This was not an original pressing but based on the label I would guess (?) that it was a second pressing? It has the deep grooves, no flat edge and it has the Lexington Avenue address on one side and the West 63rd address on the other. I tend to prefer that my records be of a singular vintage: It's less confusing. Anyway, the vinyl was M- and the cover was VG++ and the price was $67, not bad for an early, but not original, pressing.
I liked the way this one was listed: Beverly Kenney Sings for Johnny Smith, Roost 2206. This was an original pressing, the vinyl was VG, the cover was VG++ and the price was $71. What I liked about this listing was the brief bio of Kenney because I had actually forgotten about how tragic her story was. Not sure if that was original writing from the seller, or if he took it from somewhere else, but it was quite informative. Take a look if you'd like.