Jazz Vinyl Update: Saxophone Colossi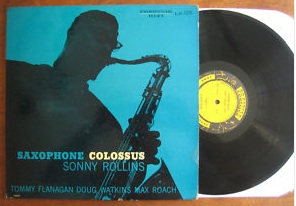 Let's catch up on some of the rare jazz vinyl we've been watching on eBay, starting with: Sonny Rollins, Saxophone Colossus, Prestige 7079. This was an original pressing with some very nice pictures. The seller provided very little information and he had less than 30 feedbacks. Still, the record sold for $1,247. Here's another copy of Saxophone Colossus that sold at around the same time from a well known and highly regarded seller. This one was listed in VG condition for the record and VG+ for the cover. It sold for $1,050. Interesting that the prices were so close, despite the disparity in the condition. Shows the value of knowing the seller, either from experience or just by brand name, even on eBay.
This one was interesting as well: Joe Henderson, In 'N Out, Blue Note 4166. This one certainly looks like an original, with the mono cover, New York USA labels, etc. But the seller never makes mention of the ear in the deadwax, so you do wonder. It looks to be in VG++ or M- condition for the record and cover, and it certainly looks cool with the original shrink wrap and price. It sold for  $511.01, so someone must have been pretty sure, or quite hopeful, that  there is an ear in the deadwax.  This is the second highest price we've ever seen for this record in the Jazz Collector Price Guide.