Labor Day Blues: Kind of Blue, Candy, Monk & Sonny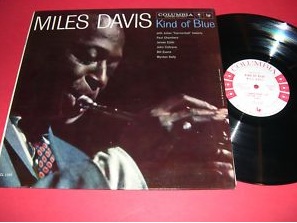 Here's some jazz vinyl we've been watching over this Labor Day weekend here in the U.S., the nominal end of summer:
Miles Davis, Kind of Blue, Columbia 1355. This was an original promo pressing with the white and red label and six eyes. For the most part, promo copies of jazz records don't necessarily add to the value. With Kind of Blue, however, that is not the case: We usually see the promo copies selling for a premium. I can understand why: It looks way cool and has the smell of authenticity of an original pressing. This copy was in M- condition for both the record and the cover, with a very nice picture, and it sold for $555. There were 31 bids. quite a high number.
There's been a lot of chatter on the Jazz Collector site about the auction last week by the seller bobdjukic, who always seems to generate a lot of interest, partly because of his extensive use of hyperbole but moreso, methinks, because of his ability to generate high prices. Here are a couple of his auctions we were watching:
Thelonious Monk and Sonny Rollins, Prestige 7075. This is an original pressing with the New York address and deep groove. Of course, it is described as both "megarare" and "insanely rare." I'm not sure which is rarer, mega or insane. What do you think? Maybe we can have a vote. The record was listed in VG++ condition and the cover the same, although I wonder about the cover from the picture. This one sold for $542.12. We did a post on this a couple of weeks ago, when a copy of this same record from The Jazz Record Center — the most credible dealer of all, right? — sold for only $192.50. See what we mean about this seller being able to generate high prices. Not bad, although, to be fair, this record should be a high-priced collectible, in my humble opinion. This next one, "insanely rare," got a very high bid but did not make the seller's reserve price: Lee Morgan, Candy, Blue Note 1590. It looked to be an original pressing and it was listed in VG++ condition for both the record and the cover. The top bid $1,815. Interesting that the seller notes, in response to a question on this, that he does not play grade the records. I find it hard to accurately grade records without at least putting on a track or two, and I tend to be especially careful with high-end records that fetch top dollars. But I don't do it for a living and I don't deal in the same volume as a seller such as this.