More Questions About "Original" Blue Notes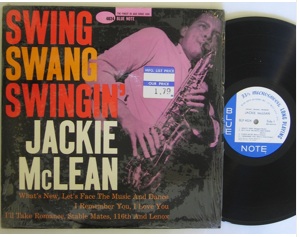 I went back to look at some of those listings from Paperstax that have generated all of this discussion and controversy. I started with Jackie McLean, Swing, Swang, Swingin', Blue Note 4024. When you look at the listing, it seems to have it all: West 63rd Street address, deep groove, but . . . when you look closely, Van Gelder in the dead wax as opposed to RVG, no mention of the ear. In bidding, I would assume — and did — that this was an original and that the seller inadvertently did not mention the ear and used Van Gelder descriptively as opposed to using the RVG. The reason is because I don't quite understand how this can be a Liberty pressing and still have the deep grooves. The same thing with:
Lou Donaldson, Sonny Side Up, Blue Note 4036. This one has all of the same attributes, including the deep groove. It also has the original cover, which was different than the cover issued during the Liberty era. If it was pressed during the Liberty era, how would it have a deep groove, even on one side? Is it possible these records were pressed originally, held back for some reason and released later? If so, however, wouldn't they have the ear? It's a mystery to me. In any case, the buyers either were unaware of these glitches — as I was, assuming they were inadvertent — or simply didn't care. The McLean record sold for $1,025 and the Donaldson record sold for $660. I know if I had paid those prices for those records and they came in the mail and there was no ear on the deadwax and there was a Van Gelder stamp instead of an RVG signature I would be quite upset. You too? I'm hoping there will be answers to some of these questions: Perhaps Don-Lucky will reach out once again to the Blue Note expert Larry Cohn.