Nothing Aberrant in These Prices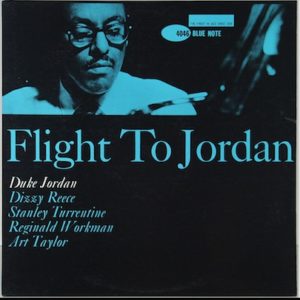 I'd like to get back to some of the records we were watching, starting with Duke Jordan, Flight to Jordan, Blue Note 4046. This was an original West 63rd Street pressing that was in VG+ or better condition for the record, and probably around VG++ for the cover. When we looked at it the bidding was in the $300 range and we were surprised it was that low, expecting it to eventually end up at or near the $1,000 bin. It did, selling for $960. So what may have seemed like an aberration, was just a product of later bidding, which has been de rigueur on eBay for many years, so no surprises. Same with this one: Doug Watkins at Large, Transition 20. This was an original pressing with the booklet. The record, cover and booklet were all in about VG+ condition. The bidding came in late, but about as expected, with the record selling for $809.
That item with the supposed Charlie Parker autograph, 7 Early Miles Davis on Dial, 1 signed by Charle Parker, wound up selling for $406.50. After reading all of the comments on that Jazz Collector post, I tend side more with lennib and think that it was more probably than not an original autograph (sorry Don-Lucky), but the lack of any kind of historical record to prove or disprove would probably have prevented me from bidding. Truth is, I wasn't on eBay, didn't think to place a snipe bid and forgot all about the auction. I'm also always hesitant to buy 78s on eBay because of the strong potential for breakage during shipping. All things being equal, though, the lot went for $406.50, which is a price that I would have been happy to pay just for the possibility of having a Bird autograph.
One more for today: Ike Quebec, Bossa Nova Soul Samba, Blue Note 4114. This is an original pressing with the New York USA labels. The record is listed in VG++ condition and the cover is VG+. The bidding is in the $300 range with about three days left on the auction. There was a time, perhaps when I first started collecting, that the Ike Quebec Blue Notes did not seem to be as coveted by collectors as some of the other Blue Notes of that period. That time has certainly passed and, as we noted a few weeks ago, the Quebecs have moved up in value quite nicely and have surpassed many of the other Blue Notes of the era. Why? You tell me.