A Prestige Pair; a Bird Autograph?????!!!!!!!!!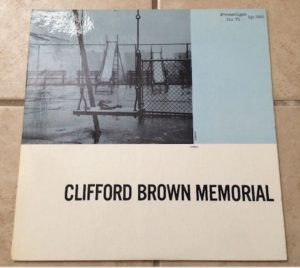 We'll start the week with a couple of nice Prestige records on eBay and then move on to a possible autograph (?) by Charlie Parker. First up is the Clifford Brown Memorial Album, Prestige 7055. This is an original New York yellow label pressing that looks to be in M- condition for both the record and the cover. The bidding starts at $155 and so far there has been no action. The auction closes in a bit more than two days. This has never been one of the Prestiges overly coveted by collectors, but I would still expect it to sell for a decent price, in the $300 or more range. We'll see. Clifford is one of the greats, so it has always eluded me why collectors might be willing to pay a higher price for a Moondog Prestige versus a Clifford Brown. I guess it's supply and demand, but you'd think the demand for a great Clifford record would be higher.
Hank Mobley, Mobley's Message, Prestige 7061. This is an original New York yellow label that looks to be in VG++ condition for the record and possibly VG++ for the cover as well. Looks like it is in the original rice paper sleeve, if that means anything to anyone. For me, I love to buy the records in the original rice paper, but then I often change it because I find the paper sleeves more convenient and, for some reason, they feel "safer," whatever that means. Anyway, this record has a start price of $500 and so far there are no bidders with nearly three days left on the auction.
I hope Don Lucky is keeping an eye on this space because I would value his opinion on this listing from eBay: 7 Early Miles Davis on Dial, 1 signed by Charle Parker. For some reason the seller thinks putting Miles Davis in the headline would be more impressive than putting in Charlie Parker, but that is beside the point. The point is that these are at seven Dial 78s, six with Bird as the leader, and the claim that one of them features a genuine Charlie Parker autograph. In fact, if you look at the "autograph" it is made out "To Jackie," so those of us with vivid imaginations can imagine Bird giving this to Jackie Mclean and signing it, as this is signed, "To Jackie, Best Wishes, Charlie Yard Bird Parker." If you knew it was an authentic Bird signature, what would you pay for it? If you knew it was originally made out to Jackie McLean, what would you pay for it? The price on this set is $299 and so far there are no bidders. I hate buying 78s on eBay because they are so vulnerable to breakage during shipping, but I am, to say the least, quite intrigued by this listing. I'll be keeping an eye on it.