On eBay: Blue Note, Transition & Hyperbole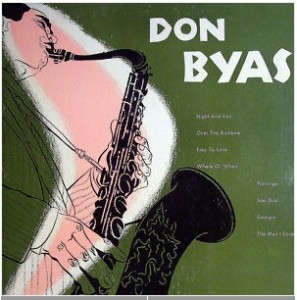 Was watching this later pressing to see if it would sell: John Jenkins with Kenny Burrell, Blue Note 1573. This was a United Artists pressing. The vinyl was in M- condition, but the cover had a corner clip. The starting price was $44.44 and there were no bidders. Not sure where the market is for these United Artists pressings. I do have a bunch of them and I'm planning to hold onto them. They sound fine, not like the original pressings, but not like the reprocessed stereo editions either.
Here's an interesting one from our "friend" Bobdjukic: Don Byas, Tenor Sax Solos, Atlantic 11233. This is a 10-inch LP with an interesting cover. The listing notes that it is an uncredited David Stone Martin illustration and, I have to admit, it looks like one for sure. But when this seller says something is "absolutely certain" I tend to wonder. In this case, I think he's accurate, but it would nice to get confirmation from one of the experts out there as well. The rest of the hyperbole in the listing is a true work of art. Here is some of the language: "One of the rarest jazz albums in existence," plus "We are reasonably certain that less than four copies
have been offered on eBay IN THE ENTIRE HISTORY OF THE COMPANY." Gotta admire the chutzpah. This one is at $100.
Here's one for the $1,000 bin: Donald Byrd, Byrd's Eye View, Transition 4. This was an original pressing from Euclid Records. The record was M-, the cover was VG++ and it included the booklet. The price was $1,371.