One for the $3,000 Bin (And A Few More)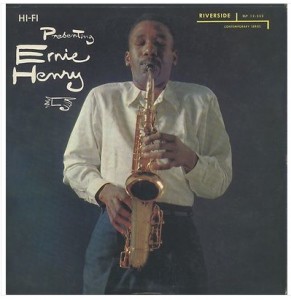 So how did some of those jazz vinyl auctions we were watching pan out? Thought you would never ask.
Hank Mobley, Blue Note 1568. This was an original pressing of one of the rarest and most valuable of all jazz records and it was sold by the most reputable of all jazz sellers, the Jazz Record Center in New York. The record was in M- condition and the cover looked like VG++. We've seen this record sell for more than $5,000 in the past on the Jazz Collector Price Guide. Not this time. This one sold for a mere $3,362.
Presenting Ernie Henry, Riverside 222. This was also from the Jazz Record Center and it was an original white label pressing that looked to be in quite lovely condition, M- for both the record and the cover. This one sold for $510. Great cover, isn't it? Perfection, really, with the great picture and his eyes closed and the scripted typeface with the finger pointing to Ernie. Love it. Great record too.
This seller had a few interesting records from the Prestige New Jazz label, including:
The Music of Ahmed Abdul-Malik, New Jazz 8266. This was an original deep groove pressing with the purple labels. It was listed in VG+ condition for both the record and cover and sold for $447, which seemed quite high to me. I have a Riverside record by Abdul-Malik with Johnny Griffin and I've had this record in the past but I have to admit I never listened to either. Perhaps I will change that later this weekend and put the Riverside on the turntable.
From the same seller was: Ken McIntyre, Looking Ahead with Eric Dolphy, New Jazz 8247. This was also an original pressing with the deep grooves and purple labels. It was also in VG+ condition. It sold for $122.50. Funny, I'd have expected the record with Dolphy to fetch a higher price than the Adbul-Malik record, but it wasn't even close.